ARCHIVES

The Hollywood Reporter. August 18-20, 2006
By Lora Kolodny
STARGATE SG-1 200th EPISODE
SPACE RACE
The planets fell into alignment when 'Stargate' got into the merchandising game
They're not "Star Wars"; they're not even "Star Trek." But in the realm of ancillary merchandising, "Stargate SG-1" and spinoff series "Stargate Atlantis" are supernovas.
As many as nine official "Stargate" conventions take place worldwide each year. MGM Television works with license partner Creation Entertainment to produce the events, for which combined attendance has grown by about 35% annually since their 2003 launch, according to Creation co-founder and co-CEO Gary Berman. As many as 3,500 fans attend each convention, and the flagship Vancouver event grants 400 premium ticket-holders access to the show's set, executives and talent.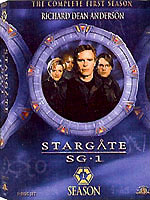 For those with smaller budgets, access is best granted on DVD. More than 2 million season sets of "Stargate" have been sold in the U.S., and more than 30 million single discs have moved worldwide, including many in specialty packs such as a spaceship-shaped box in France and a sterling-silver box in Germany. Perhaps surprisingly, "Stargate SG-1" had no U.S. DVD presence until its fourth season. German fans initially lobbied for the series' home-video release, according to Blake Thomas, executive vp and general manager of MGM Home Entertainment. "We really catered to the avidness of this fan base after seeing the success with that first-season set (in Germany)," Thomas says.
Soon, the show will migrate to another small screen - the PC - where it will be the subject of the massively multi player online game "Stargate Worlds." The title is expected to be in beta-test shape during the first half of 2007, with a fourth-quarter 2007 release planned. According to Travis Rutherford, executive vp consumer products and location-based entertainment at MGM, the game will offer a "squad-based experience," with players exploring new worlds in the roles of key characters.
As an MMO game, "Worlds" will have a subscription base as well as regular downloadable content upgrades, providing for an open-ended revenue stream. According to Rutherford, the game - being developed by Cheyenne Mountain Entertainment, a startup founded last year by former Electronic Arts guru Joe Ybarra - has taken more than two years to create.
Says Rutherford, "We're hoping this will be another touchpoint for 'Stargate's' audiences and be played on a level of the most popular game of this type to date, 'World of Warcraft'."
____________________
Kolodny, Lora, "Space Race." The Hollywood Reporter. August 18-20, 2006: p. 28.