HOLOGRAPHIC PROJECTION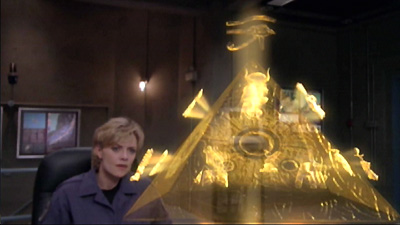 A number of the cultures encountered by SG-1 have used the technology of holographic projection. The Ancients had perfected holographic technology, and from the outpost on Praclarush Taonas, O'Neill activated an Ancient holographic map of the galaxy that revealed the existence of a similar outpost on Earth. The holo room in Atlantis provides a means of accessing a similar Ancient library database by using a holographic interface to speak directly with a projected image of a Lantean individual.
The underground cavern beneath Glastonbury used Ancient holographic technology to produce a recorded image of Merlin to welcome prospective knights. An image of a sword in a stone also appeared as a holographic projection upon SG-1's arrival, but it took on physical properties and could be handled as a solid object only by the individual who pulled it from the stone. Withdrawing the sword caused the appearance of a holographic knight which responded in battle only to the one who had drawn the sword, and although his blows did not draw blood, they did cause great pain. In Camelot, SG-1 encountered similar images of Merlin and his knight.
Merlin and Morgan Le Fay frequently used holographic technology. Merlin's phase-shift device uses a holographic interface display, rather than a screen, visible only in the alternate dimension. As a means of safeguarding the Sangreal, Morgan Le Fay used holographic images in several instances, including images of a crying child, a rock wall hiding a passage, and the Sangreal itself on a pedestal used to trigger a transporter. Using an Ancient repository, Merlin pieced together his weapon by using virtual components created from base molecules. As each holographic component was designed and configured virtually, the pieces merged and took shape, then materialized into solid form.
The Asgard have used holographic images of Thor and Freyr on worlds like Cimmeria and K'tau in order to create the impression of powerful gods. The Asgard also use life sized holographic images for live two-way communication. The Asgard computer core allows one to access the database by speaking directly to a holographic representation of Thor or another Asgard. Holographic communication can also be done over significant distances, for example between the Biliskner and the SGC, or between the Hall of Wisdom and the Asgard High Council, and O'Neill also used this technology to appear as a hologram while in stasis as his mind interfaced with the computer system aboard Thor's ship. SG-1 was able to infiltrate Anubis's mothership using holographic images transmitted from Heimdall's lab for communication and diversion.
Anubis has also projected a holographic image of himself into the SGC and into the Oval Office, probably using Asgard technology stolen from Thor, and after Anubis's destruction Ba'al also made use of this technology to communicate with the SGC or with SG-1 on Dakara by projecting a holographic image of himself. The Goa'uld vo'cume projects an enlarged recorded holographic image and is used as a training device and symbol of authority. The Goa'uld Nerus used a device, which he claimed to have invented, capable of recording and playing back a three dimensional holographic image. A similar device, which functions without the need for silver halide-coated plates or photo-polymer film, has been used by the Tok'ra, and Jacob used such a device to project a holographic representation of the family tree of the System Lords The memory recall device, adapted by the Tok'ra and occasionally used in conjunction with the zatarc detector, is capable of projecting what the mind's eye is seeing holographically as either two-dimensional or three-dimensional moving images.
Other races have also perfected holographic technology. The Tollans have used a small hand-held device which can produce a three-dimensional recorded moving image for communication. The mimic devices of P3X-118 use holographic technology to duplicate appearance. An individual is scanned, and the image is uploaded into a small mimic device which, when worn on the body, acts as a holographic sequencer and allows one to take on the appearance of the scanned individual. The inhabitants of P3X-289 applied holographic projection on a large scale by giving the barrier of the dome in which they lived the appearance of an idyllic garden.
Although Earth had not yet perfected the technology of holographic projection, SG-1 acquired Asgard technology to present a holographic projection of Thor on live television in order to discredit Alec Colson's claims of the existence of alien life. This technology was developed into the Chimera Optics Projection System, Earth's first viable holographic system which Carter presented at the Applied Technologies conference. The SGC has since gained all of the Asgard knowledge and technology with the installation of the Asgard legacy aboard the Odyssey.
Cross Reference: Ancients, Asgard, Asgard High Council, Asgard Mothership, Asgard Stones, Black Knight, Chimera, Glastonbury, Hall of Mjollnir, Hall of Thor's Might, Hall of Wisdom, Holo Room, Memory Recall Device, Merlin's Phase-Shift Device, Merlin's Weapon, Mimic Device, P3X-289, Praclarush Taonas, Sword in the Stone, Tok'ra, Tollans, Vo'cume, Zatarc Detector
Episode Reference: Thor's Hammer, Thor's Chariot, Out of Mind, Seth, Rules of Engagement, Foothold, Nemesis, Red Sky, Between Two Fires, Fail Safe, Revelations, Redemption, Unnatural Selection, Smoke & Mirrors, Fallen, Revisions, Evolution, Lost City, New Order, Zero Hour, Covenant, Reckoning, Avalon, Beachhead, Arthur's Mantle, The Pegasus Project, The Quest, Bounty, Unending