BANFF CELEBRITY SPORTS INVITATIONAL
January 3-6, 2002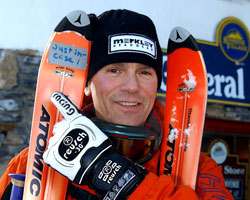 In January, Richard returned to the Celebrity Sports Invitational, this year held in Banff, Alberta, Canada.
Richard participated in the Target Golf Shoot-out and managed to become a target himself when he was hit by an errant golf ball. A better skier than golfer, Richard was paired in the Dual Giant Slalom against former World Cup star Klaus Von Heidegger. Although he did not win that heat, he beamed, "This was an honor!" as Klaus congratulated him, "You did great!" His Team Mouton Cadet did go on to win the event.
The Celebrity Sports Invitational was hosted by Robert Kennedy Jr. in support of his Waterkeeper Alliance. More than $600,000 was raised to help protect and restore rivers around the world.
Below are some pictures of the event.