BANFF CELEBRITY SPORTS INVITATIONAL
January 7-8, 2005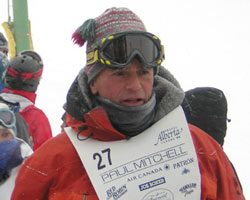 Richard Dean Anderson returned once again to the Fairmont Banff Springs Sports Invitational held this year at Sunshine Village on January 7-8th. The star-studded event, hosted by Robert F. Kennedy Jr. in support of the Waterkeeper Alliance, included tobogganing, snow shoeing, and ski racing competitions, despite bitterly cold temperatures.
Richard insisted, "Being from Minnesota creates hardy stock. I've got thick blood, thick head, the whole nine yards," and in the dual slalom ski racing event, he won both of his races easily, against Olympic champion Hank Kashiwa, and actor Jason Priestley.
He also mingled with fans, graciously posing for pictures, and he attended the gala dinner and charity auction.
The weekend event raised over $650,000 for the Waterkeeper Alliance which protects and preserves water resources.
Below are some pictures of the event.