VANCOUVER FIRE FIGHTERS' CELEBRITY COOKBOOK
December 3, 2004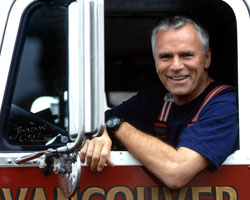 Richard is among the celebrities featured in the Vancouver Fire Fighters' "Pot on the Stove" Celebrity Cookbook.
The cookbook, which raises money for charity, includes a history of the Vancouver Fire Department as well as photographs and favorite recipes from a number of celebrities. Richard's contribution is a recipe for "Chocolate Hazelnut and Coconut Cake."
The cookbook is now on sale at Chapters, Duthies, and London Drugs, and it can be ordered online at the website of the Vancouver Fire Fighters.
All proceeds benefit the BC Children's Hospital.
The cookbook features the photography of Jonathan Cruz. The images below are from the photo shoot for the cookbook and are courtesy of Jonathan Cruz Photography, Vancouver, BC. Only the final image appears in the cookbook, printed in black and white.