HIDE AND SEEK
June 6, 2005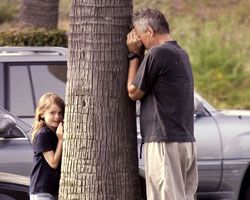 The entertainment magazine "Inside TV" included two pictures of Richard and Wylie in its June 6th issue.
The caption indicated that the pictures were taken on May 24th in a Malibu park where Richard and his daughter were playing hide-and-seek before Wylie's ballet lesson.
It also reminded readers that Richard can be seen in Stargate SG-1 on the SciFi channel, and in MacGyver on TVLand and on DVD.
Thanks to the photographer, Most Wanted Pictures, four of the images taken that day can be shared here.
Below are the pictures from the magazine and additional pictures offered by the photographer.