FROM KING OF THE ROAD TO GENERAL HOSPITAL'S NEW PRINCE CHARMING!
As daytime's newest heartthrob, Richard's ready to swap his motorcycle for stardom!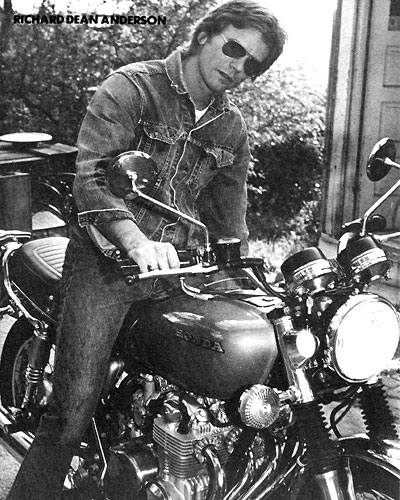 The offer to head out to Pasadena doesn't come every day, so when the invite came, I said yes. Actually, it isn't as far a trip as I'd anticipated, but it is in the country. When I reached my destination, I found a funky little house at the address I'd been given.
As I drove up I spotted young Dr. Jeff Webber, out of uniform and very off-duty. As I extended my hand to Richard Dean Anderson, I tripped over his motorcycle in the driveway. It was a great way to break the ice. We couldn't stop laughing for about ten minutes.
Rick was so new on "General Hospital," I hadn't even met him before this. I was impressed with his casual nature. He hardly seemed like a typical budding soap superstar at all. The first question out of my mouth was, "What are you doing in Pasadena?"
"What's the matter, don't you like it?" He smiled in defiance. "It's not that far from L.A. I kind of like being out in the country. When I moved to this part of the world from Minnesota and happened onto this place, I realized it needed work. But it had a lot of potential, don't you think?"
I eyed the room and realized right off it wasn't city living, but then he wasn't a big city boy. In a corner of the room I spotted a cowboy hat and a guitar. It all began to make sense. It seemed his very nature to not get too settled anywhere, for the more we talked, the more I realized Rick is a rambling man in the true sense. In fact, "General Hospital" interrupted what was about to be his next rambling adventure.
"When I first read for "General Hospital" I didn't know it was a soap opera. I thought it was a nighttime show like "The Rookies." In fact, after my reading for the producer Tom Donovan, I remarked to him it almost seemed like a soap opera. He did one of the most incredible double takes I've ever seen in my life. His look was kind of like, who is this kid? There was a really deadly silence for a long time. But I must have done something he liked 'cause he called me back for a screen test. I didn't think much more about it when I didn't hear from them right away. I got one of my impulsive whims and had all my hair cut off. I climbed on my motorcycle and headed up the coast. I had figured on riding my motorcycle around the country like Michael Parks in "Then Came Bronson," when my agent found me and told me to get back in a hurry - I had a job."
Things weren't quite so wild and fancy-free for him at the time. He was working at Marineland as part of a show which included being kissed by the aquatic star of the show. "I was working at Marineland as kind of the resident actor and writer. I was writing the show for the animals. I used to get kissed by the killer whale and even had a fish snatched out of my mouth. It was really exciting. Anyway, I was on vacation from Marineland when I hit the coast. Needless to say, I didn't go back to Marineland and I don't miss my kissy playmate."
How has "General Hospital" affected his life? we wondered.
"I didn't tell my family in Minnesota. As a matter of fact, they found out from a friend of mine. I still didn't believe it would last or that I really had the job. There are so many disappointments in this business. Besides, it would have cost a fortune to track my family down. I have three younger brothers. One lives at home in Minnesota; the others are spread out. So far, they haven't followed in my footsteps."
Don't get the wrong idea about Richard. He's by no means a drifter and an overnight sensation. He's been through the school of hard knocks. He's been in Hollywood for five years working at odd jobs while waiting for opportunity to knock at his door.
"My first job was selling curtains at The Broadway on Hollywood and Vine, you don't get more Hollywood than that. Then I sold men's shoes for three weeks before I realized it wasn't for me. I sold shoes the way I act - the soft sell."
Richard hasn't begun to get his fan mail. Often the studio reads it first and then forwards it to the actor. As of this date he hadn't received any marriage proposals and bemoaned, "Nobody's sent me anything so far but the phone company; they write every month."
The next subject to be broached was girls. "I don't have a steady girl because I prefer to play the field. Don't get me wrong, I'm not overly casual about my relationships with women. I'm just not ready to settle down with any one girl right now. I like a woman I can talk to. It really helps to break the ice. Communication is very important to any potential relationship. A guy can tell when he meets a candidate for Miss Right. Take Michelle Conaway from "General Hospital," for instance. Boy, is she a candidate for Miss Right!" Richard flashed a little boy smile which told me right away he kind of likes Michelle.
"I'm sorry to see her leaving the show so soon. But then there is a happy side; it's not smart business to get involved with anyone you work with. I have a date with Michelle next week."
Richard discovered acting quite by accident. "I went to watch a rehearsal of a high school play my father was directing. It was during that rehearsal that I realized I wanted to be an actor. There wasn't too much acting around in Minneapolis. Oh sure, there was the Tyrone Guthrie Theatre, but the closest I got to that was when I was on a construction team building a freeway bridge a block away. I left home when I was 14 years old and just thumbed around. Acting was always a sideline for me. I'd get in and out of it periodically. When I was in college I got a little involved in the theater department. I found it fascinating, but I didn't get too enthusiastic about it. Then in college I made a film and someone even told me I had a future there. Then I moved to San Francisco and back to Minnesota. I guess I traveled around a lot, taking odd jobs to make the money to get from place to place.
"I really like California. I want to stay here for a while and get into movies. Working on "General Hospital" has been a great experience for me. I've never been in a more comfortable working climate than on this show. The people, ABC, everyone's been just great. It's kind of nice being part of a company of actors. I'm learning real fast. What more could an actor ask for?"
It sure looks like Richard is having a ball working on "General Hospital," and why not? It may be just what he needs to get him through his restlessness. You can be sure that when he eventually leaves the show, he'll have a foothold in Hollywood and a handle on the movie world. And to think he didn't even know "General Hospital" was a soap opera when he read the script! Well, what did he know? He thought working at Marineland was a whale of a time!