MACGYVER'S RICHARD DEAN ANDERSON CAN'T SETTLE DOWN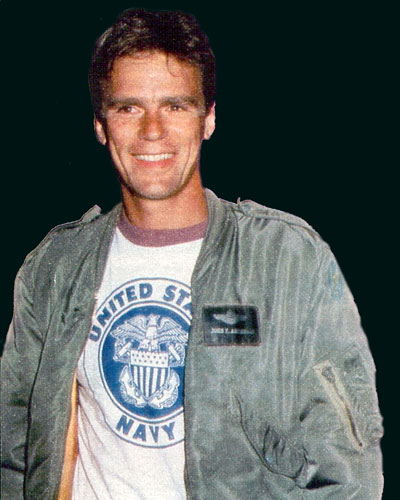 If handsome Richard Dean Anderson had to dream up a role that perfectly suited his soul it would be "MacGyver," a modern-day wandering knight in shining armor who uses both his intelligence and ingenuity to solve seemingly insurmountable problems.
There's little doubt in Anderson's mind that his rocky adolescence prepared him for any and all obstacles MacGyver might have to tackle.
"I left my family in St. Cloud, Minnesota, for the first time when I was only fifteen years old," he explains. "I began hopping freight trains and hitchhiking around. It became pretty obvious to my parents that I had what is commonly known as wanderlust... or worse.
"Frankly," he goes on, "I had the potential of becoming a juvenile delinquent. But there was a moment in my life - a kind of revelation - that altered my entire attitude."
That "moment" came when, at 17, Anderson took a solitary 5,600 mile journey - on a bicycle - through the Northwestern United States, the Yukon and the southern part of Alaska.
"I was all alone and trying to pedal out a hundred miles a day with sixty pounds of pack on the back of my bike," he remembers. "In order to make it, I had to form a semblance of discipline, both mentally and physically.
"There was nothing out there but the earth, the sky, the trees... and me. To survive, I had to listen to everything around and inside me. I learned to rely on myself, and I've never forgotten how."
Since then, Anderson has kept a steady grip on the handlebars, especially when it comes to peddling his own career. After college in Minnesota and Ohio, he took off for Los Angeles, where his many jobs included juggler, singer, stage manager, writer-director, and actor. In 1976 he landed the role of Dr. Jeff Webber on the popular soap opera "General Hospital." He remained registered there for five years, and then decided to move on.
"I was getting lost in back-burner story lines," he says. "Luke and Laura were taking over the world. But it wasn't an ego decision, it was more a matter of creative energy. I felt like I wasn't growing as an actor, and the excitement had definitely worn off.
"The producers were really surprised when I gave them two weeks notice and walked out. They couldn't believe I was relinquishing the steady work or paycheck. But security just isn't my thing."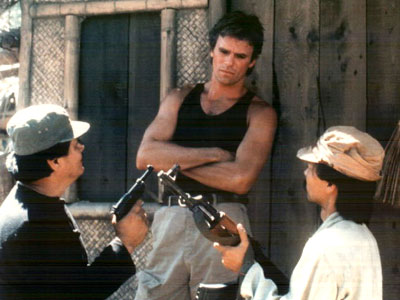 On the other hand, not surprisingly, one of his things is to perform his own stunts, right, on the action-filled "MacGyver."
"Sometimes," he says, "the producers are hanging around and they shriek when they see me doing something too risky. But they understand that this aspect of the show is important to me - and if they take away the playtime I'm going to be one unhappy guy."
Anderson's happiest off-camera playtime may be riskier than his on-camera stunts. Whenever he can, he grabs his skates and plays hockey. In fact, if he hadn't broken both his arms in two separate incidents while on his high-school varsity team, his goal would probably have been a career in hockey instead of acting.
Although Anderson is satisfied with his career moves, he's less at ease when it comes to his personal life.
"There's a big question mark when it comes to settling down," he confesses. "I've been dating one woman for a couple of years, whom I'd rather not name, but we've gone through so many changes that we're being quiet with each other for a while.
"Still," he adds, "I would like to have a family some time in the future. I'm kind of nervous about that notion, and I worry sometimes that I might still be too irresponsible a person or maybe I still have a slight case of wanderlust.
"But I'm thirty-six now, and it's time I came to terms with the idea of settling down. Besides, I know I'd make a great father."