STARS... SHINE ON ICE!!
Tonight the Spectrum will have a better star show than the Franklin Institute.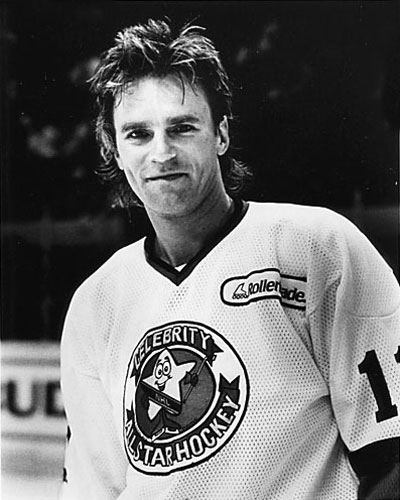 Bigger.
Brighter.
Colder.
Tonight's stars will shine on the ice. They will twinkle and dazzle you, and their brilliance will throw a shadow of light that will benefit Delaware Valley youth hockey programs.
The Hollywood Celebrity All-Star hockey team is a diverse group of former hockey stars and current entertainment giants. They are actors, animators, former NHL players, and Olympic heroes all united in their love for hockey.
Actor Richard Dean Anderson is well known for his role as MacGyver on the ABC series of the same name. Tonight he will play a different role, one of a swift-skating hockey player. It is a role he relishes as much as his televised character.
"It's very simple," Anderson said, laughing. "I love the game of ice hockey. I grew up in Minnesota and I started playing ice hockey when I was only four years old. I mean, I played constantly. Before school, after school, weekends, nights."
As Anderson grew and began playing on increasingly larger ponds, his love for the game melted his other interests.
"I really, really wanted to be a professional ice hockey player," he said. "That was my big dream. That's all I wanted. Looking back, I think I could have had a shot at it, too."
A couple of bad breaks ended the dream.
"I broke both my arms within a very short period of time," he said. "Those injuries took away my edge. I lost that extra bit of aggressiveness that you need to make the grade in pro hockey. My competitive hockey career ended with those broken arms."
He is cast in a new hockey role now.
"Two years ago, myself, John Bennett Perry, and a few others got together a bunch of celebrities who liked to play hockey. We played in Arizona and Colorado. Eventually, we struck an agreement with the NHL to give us the rights to negotiate with any league team to play a charity exhibition game prior to an NHL game.
"It's incredible fun. We played in Hartford last year and I actually played against Gordie Howe. Can you believe that? It was fantastic. Just unreal. It's fabulous to meet these great hockey stars and also raise money for charity."
If hockey is the apple of Anderson's eye, the Big Apple finally brought his hockey dreams to fruition.
The company I work for, Paramount Pictures, is owned by Gulf & Western. Gulf & Western also owns the New York Rangers. Because of that tie, I got to skate with the Rangers during pregame at Madison Square Garden.
"It was glorious. It was great. The Rangers treated me very well. They really gave me a thrill. But, that was just a pregame skate. These celebrity games are real games. That's what I really like, the games."
So does former Chicago Blackhawks defenseman Keith Magnuson. The former NHL tough guy now works hard for a much sweeter team. He works for Coca-Cola in the Windy City.
But when the rough winter winds bring in hockey season, Magnuson kicks up a breeze gliding up and down a smooth white surface.
"I've been playing with the Celebrity All-Stars for the last two years," Magnuson said. "It's a lot of fun. You really get to see the other side of these entertainment stars who come out to play hockey. The real reason I play is to give something back to the game of hockey. These charity games do a lot for hockey organizations. It's just nice to be able to do that."
Magnuson was not known as a particularly "nice" player during his NHL career. His games were filled with sticks, elbows, shoulders, and fists. Still, years after his retirement, he wants to play this game.
"I think," Magnuson said, reflecting, "we played so hard for so many years, it's nice to play for fun in these celebrity games. We have a lot of laughs. There is no checking, no slapshots, it's for fun."
And friendship.