RICHARD DEAN ANDERSON - A GOOD GUY EVEN OFF SCREEN
While shooting new episodes, "MacGyver" helped his almost blind colleague.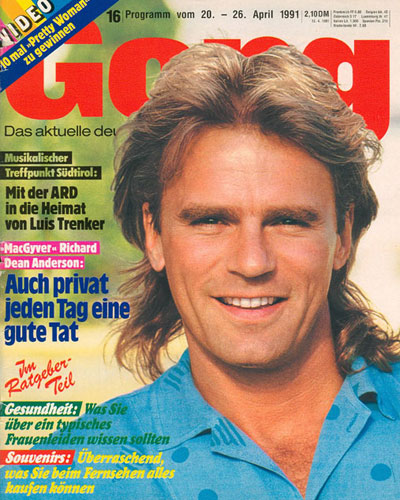 "In general, actors are primadonnas," the ingenious filmmaker Billy Wilder once said. "Most are highly egocentric. Therefore true friendships among actors are extremely rare."
Nobody knows better that there are exceptions than Dana Elcar, who plays Peter Thornton, the boss of series hero Richard Dean Anderson. When a harrowing drama was happening behind the scenes of the successful series, "MacGyver" proved that even in his private life he would rather listen to his heart and mind than his muscles.
The back-story: Dana Elcar has been suffering for a while from glaucoma. During the last few months his condition has been deteriorating so much that he could hardly read the scripts anymore. Says a cameraman, "He only recognized people when they were standing really close in front of him and sometimes only by their voice." For "MacGyver" producer Steve Downing, it seemed "an impossibility." He drew what seemed to him to be the only conclusion: "We need to end the role."
But he hadn't counted on Richard Dean Anderson, who – deeply moved by his friend's fate – declared the very next day: "Dana is a vital character in our series. You can't just throw him out, now that he really needs help. I won't go along with that."
And Richard Dean Anderson wouldn't be "MacGyver" if he didn't already have a solution in mind: "Can't we just incorporate Dana's disease into the series?" he suggested.
The producers talked it over and finally agreed. By now the first two episodes of this kind have been shot. Dana Elcar carries on playing Peter Thornton and declares, "Ricky Dean has stayed the way he always was. The nice guy next door. I'm certain that we'll master many more adventures together on screen."
Richard Dean Anderson is glad, too, that he could help his friend. "Seeing Dana's shining eyes when I gave him the good news made my day."
We won't see those new episodes until autumn, however. Then SAT 1 will air the next season of "MacGyver." Until then, Richard Dean Anderson's fans have to console themselves with "General Hospital" (also on SAT 1), in which they can see Ricky Dean as he was before his big breakthrough as "MacGyver."