ANDERSON IS AT HOME IN ALL WORLDS
Showtime's "Stargate" puts him in sci-fi's orbit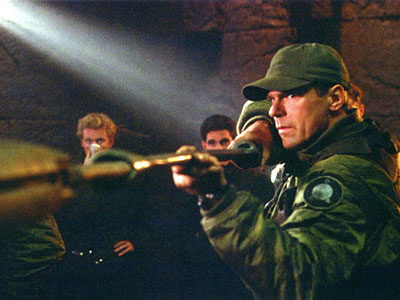 Richard Dean Anderson is the rare actor who actually likes working in Vancouver.
"I know where all the ice rinks and off-road bike trails are. You know, all the important stuff," says Anderson, who taped the last few years of his ABC "MacGyver" series in Vancouver.
Other actors complain about the bitter cold of the Canadian city, which is home to many TV shows and movies. But Anderson, 47, a self-described "vagabond," doesn't mind being outside the din of Hollywood.
So when Showtime executives approached him about returning to Vancouver to star in a new series, "Stargate SG-1," location "was one of the pluses."
Based on the 1994 sci-fi feature film, "Stargate" picks up where the Roland Emmerich movie left off as a military team travels to other worlds through a portal known as a stargate.
The Showtime series premieres with a two-hour movie Sunday at 8 p.m. ET /PT, then moves to its regular Friday at 10 p.m. ET /PT time slot on Aug. 1.
"I hadn't seen the movie, I'm not a science-fiction fan and I had never done anything remotely science fiction," says Anderson, who assumes the role of Air Force Col. Jack O'Neill, played in the film by Kurt Russell.
"But I've always kind of touted the credo, 'I'll try anything once.'"
In the film, Russell played an officer whose son had recently died. In the series, Anderson will be allowed to bring some levity to the role, staring down aliens and other creatures with a "been there, done that" cynicism.
Anderson is known off-camera for his cynical sense of humor. He lightened the mood on the "MacGyver" set after his pet Australian shepherd died, by standing in the middle of the soundstage with a leash tied to the ash-filled urn of the dog's cremated remains.
"In "Stargate," Richard Dean Anderson has the strength of a leading man but it's a strength that is combined with an acerbic comic edge that viewers may not have seen much of," says John Symes, president of MGM Television, which is producing "Stargate."
With more than 240 special effects in the premiere, "Stargate" should appeal to sci-fi buffs. But the producers say the series is down to earth, at least in a figurative sense.
"We don't have a giant, high-tech ship that we travel in," says executive producer Brad Wright. "Once we go through the stargate, it's just us, these people from the 20th century, going on an adventure."
And not all the worlds visited by "Stargate" are teeming with aliens. Many are populated by cultures similar to those that existed on Earth centuries ago and "for some reason were not allowed to progress," says executive producer Jonathan Glassner. So the show is historical, he says, as much as it is futuristic.
Why did Anderson commit himself for two years to a pay cable network that's seen in less than 15% of U.S. homes?
Anderson says he'd rather be working than waiting around for a better offer.
"I thrive on the activity of being in production, as harsh as it may be," he says, calling himself more of a laborer than an artist. "I don't presume to be a spectacularly deep actor, but I do work my a-- off in any job I take."
He'd already "been through the wars" trying to pitch ideas at the broadcast networks. In his most recent go-round, producing and starring in the Western "Legend" for UPN in 1995, he'd been stung - badly.
When UPN executives told him they were losing money on the series, he replied, "Well, guess what, you're starting a new network - you're going to lose money."
The drama was canceled after 10 episodes, and Anderson says he felt the worst for the crew, who had toiled through summer on location in the parched Arizona desert.
But now he's back in chilly Vancouver, on the "Stargate" set. He has another Australian shepherd, Zoe, and he's happy.
"I love dogs," he says. "They're my favorite people."
Getting the Series Launched
Though "Stargate SG-1" is Showtime's most expensive series ever, it's also the third original series the network has commissioned from MGM in Vancouver - an arrangement that saves all the parties involved big bucks.
Already on the pay cable network are MGM's "The Outer Limits" and "Poltergeist: The Legacy." All three shows operate out of MGM's Bridge Studios in Vancouver, which allows them to share technical crews and editing facilities. They also use the same talent pool of actors and producers, which means they don't have to start from scratch with each production.
Plus, production in Vancouver is cheaper than in Los Angeles and gives U.S. companies an edge, thanks to the favorable exchange rate.
Showtime gave "Stargate" an initial order of 44 episodes instead of a typical 13-episode order given by an ABC, NBC or CBS.
"There's tremendous value in a production based on MGM's ability to have an ongoing base of operation in Vancouver," says Jerry Offsay, Showtime's president of programming.
"And with 44 episodes, crews know they have security for at least two years, which is a long time in this business, so you can attract the best guys in town."
MGM likes the 44-episode commitment because it can spend more per episode and spread the costs of production over a couple of years rather than a couple of months.
"The up-front order has really allowed us to invest," says MGM's John Symes, adding that the extra money is put into additional special effects. "You can see the money on the screen."
The two-hour pilot cost more than $5 million, and the per-hour price tag on subsequent episodes is about $1.3 million.
Overall, Offsay says, "as programming costs rise, you have to be a little bit more inventive about how to maximize production values. This arrangement works very, very well for us and for them."