ANDERSON MAPS FUTURE OF STARGATE AND BABY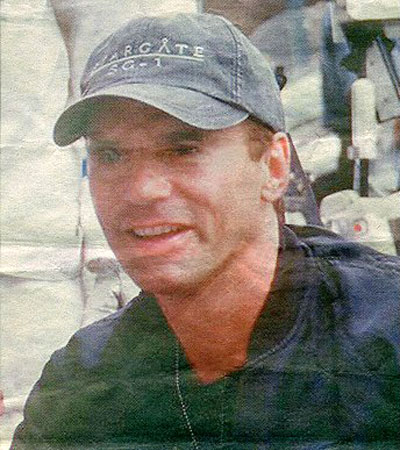 Talking to Richard Dean Anderson these days can get downright mushy.
But that's what happens when a baby enters your life – a happy circumstance that could signal the end of the durable and appealing star's presence on series television.
"It's altered the course of my future, and I love it," says Anderson, the star of the popular, Vancouver-shot science-fiction series Stargate SG-1.
The man practically beams when talking about his baby daughter Wylie, who will be two months old this Friday. It's actually kind of sweet listening to him. Kind of.
"Beyond cleaning up the baby's butt, (fatherhood) is one of the greatest joys that I can imagine," says Anderson, 48.
At least with a father who played legendary fix-it artist MacGyver on television, she'll never have to worry about running out of diapers; the man could whip one up out of duct tape, chewing gum, a candle and his trusty Swiss army knife.
In his giddiness, Anderson is already mapping out the future for Wylie, whose mother is Apryl Prose, Anderson's girlfriend of almost three years. And that future doesn't include dating:
"Dating? What is that? She'll be 35 by the time (I let) some kid come around." Anderson warns potential suitors that "I know all the guy tricks. I know what to look for, and I know what to be poised and ready for. Nobody's gonna bob and weave past me. I know all this stuff. I did it! I wrote books! Volumes!"
Having Wylie has focused Anderson, a car racer/skier/former hockey ace (bad knees) on growing up a little, putting him on the cusp of adulthood. He's ready, he says, to "make the full transition."
Somewhat.
"I still have a pretty youthful attitude about things," Anderson says. "I can't say my body's staying with that attitude but I still can talk a good game and think it."
Anderson jokes about Wylie's future but he is serious about his own.
Currently in its second season, Stargate SG-1 can be seen Sunday at 7 on CHEK. In the U.S., it airs on Showtime, the cable network that recently signed on for 44 more episodes of the series, which means a total of 88 will be made when all is said and done.
The show's first season is now in syndication. And the U.S. Sci-Fi Channel will air reruns in another few years.
But by the time Anderson, who is also an executive producer of the show, finishes those 88 shows, he'll be staring 50 in the face.
With the grind of making an hour-long action series and spending so much time away from Wylie and Apryl, Anderson realizes he may have to consider a future without Stargate.
He's been thinking of retirement, though he won't be making a rocking chair out of pencils, thumb tacks and duct tape any time soon.
"Series television, I know I'm going to want to eventually kind of phase out," he admits. "It's nine months of the rigours of production, including being an executive producer and one of the actors. It's time and energy away from this little baby girl that I adore.
"So yeah, there's an obvious transition that I'd like to be making over the period of the next few years. And yeah, that will include probably phasing out of the show eventually. But I don't have a timetable on it and I can't even project it right now. Things are going really well."
Anderson's having fun playing Col. Jack O'Neill, who leads an exploration team using the trans-planetary teleportation device that was the centre of the 1994 feature film on which the series is based. Anderson also enjoys getting some humour into a role that was played stoically by Kurt Russell in the film.
"I'll ad-lib a lot of lines to bring a slightly sarcastic sense of humour to the character," he adds. "There's no way I could do what Kurt Russell did and they (MGM and the producers) knew that in the first place.
"My hair won't do," he says, referring to the flat-top that Russell wore in the movie.