FATHER TIME
Richard Dean Anderson's got a new babe: his daughter.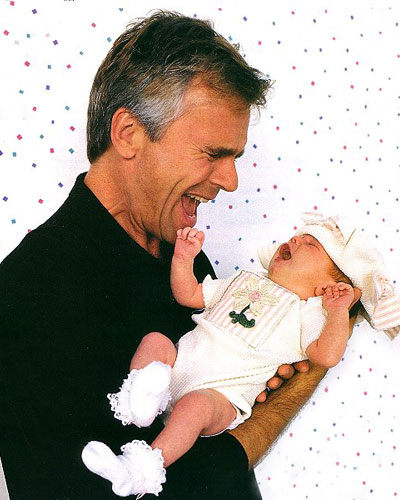 "I could just sit here staring at her all day," says Richard Dean Anderson, reclining on his bed. "Actually, I think I have." Improbably, the notorious ladies' man is not talking about some leggy starlet du jour. These days the object of his infatuation is Wylie Quinn Annarose, the baby girl that Apryl Prose, Anderson's girlfriend of two years, gave birth to Aug. 2.
Later, in the kitchen of the four-bedroom Vancouver house the ex-MacGyver star rents while filming Stargate SG-1, the TV series about interplanetary explorers (now in its second season on Showtime and airing in syndication), Prose, 32, warms a bottle while the doting dad places his daughter in her crib. "When I come home, I immediately take over diaper changing," says Anderson, 48. "I love that" -- along with the feeding and the burping.
This is, astonishingly, the same "Rick" Dean Anderson who outlasted Warren Beatty as Hollywood's busiest bachelor -- dating such beauties as Sela Ward, Katarina Witt, Lara Flynn Boyle, Marlee Matlin and Teri Hatcher. But whenever Anderson found himself becoming too involved, the self-described "misbehaving fool" would abruptly end the relationship and move on to someone new. "I can't cringe about those days," he says now. "If I did, I'd be in a state of perpetual cringe."
Apryl Prose, a former wardrobe and prop stylist for print and TV ads in L.A., had heard about Anderson's track record. "I thought of him as one of those actors in their 40's who still can't commit -- the kind of guy I would never date," she says.
Yeah, right. In the spring of 1996, her friend Michael Greenburg, who also happens to be Anderson's business partner, arranged for the two to meet over lunch in New York City, where Anderson was shooting a TV pilot. "We started flirting immediately," says Anderson. "By the end of the week, we were very good friends." Recalls Prose: "It was like Roman Holiday. He was so generous, so sweet. Still," she says, "I had some doubts. I thought he might just always want to be a playboy." She called her mother and said, "I've met the man I'm going to spend the rest of my life with. Don't tell anybody. He's got a bad reputation."
Yet despite the rep and the couple's long-distance courtship -- by year's end, he had begun work on Stargate in Vancouver while she remained in L.A. -- Anderson insists he never strayed. "That was a big change," says Greenburg. "I saw this happening right from the start. She's very witty and fun, and so is Rick."
Then, last November, Prose phoned with the news that she was three weeks pregnant. "We weren't planning this," she says. "I expected him to freak out. But he just said, 'Be calm. This is going to be great.'"
"I always said I wanted to be a dad," says Anderson. But, he says, recalling his feelings just after that November phone call, "I was hit by the reality of it all" and started to cry. Then he went out and bought every parenting book he could find. Back in L.A. last summer, Anderson eagerly went with Prose to a yoga labor-prep course.
Though they have discussed having more kids, neither is talking marriage. "It's just not something we're in a hurry to do," says Prose. Nor is Anderson in any rush for his daughter to grow up. "I know all the tricks," says the ex-serial dater. "The guys who come around for Wylie are going to have to be careful."