RTL II LIVE ONLINE CHAT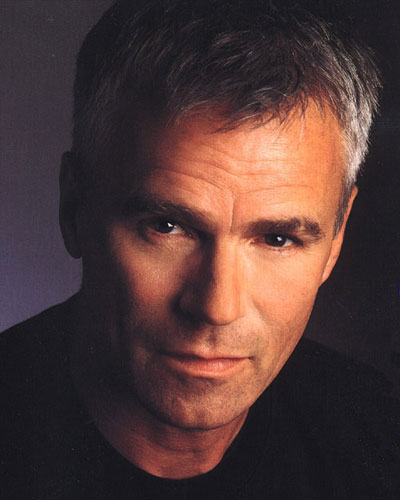 To promote the premiere of the fourth season of Stargate SG-1 in Germany, Richard Dean Anderson participated in a live online chat hosted by the German channel RTL II. Participants were able to submit their questions for the hour-long chat.
Moderator:
Richard Dean Anderson is online.
Jo1:
If you look back on your career, which project did you like most? General Hospital, MacGyver, Stargate, ... ?
Richard Dean Anderson:
The project that I had the most fun ever doing was a short-lived series called "Legend." I don't know if anyone in Germany has even seen it, but it's worth looking for.
sarah4:
Stargate - The Movie was the first film of Stargate. Do you think that the team of the TV-Series will produce a film for the cinema with SG1?
Richard Dean Anderson:
We would like to very much, in fact we're waiting for MGM to tell us whether they're interested so we can start producing it. Right now, we're not sure.
LadyX1:
What is your favorite episode of Stargate and why?
Richard Dean Anderson:
I'd have to say probably "Cold Lazarus." It dealt with a number of issues that my character had, and also his dead son. We used some special effects that were fun for me to play with.
Lya2:
How long does it take to produce one episode?
Richard Dean Anderson:
Principal photography takes between 7-8.5 days. That's just the photography. Beyond that it can take almost 2 months to finish special effects, combining the two. For instance, the visual effects of putting replicators together took months.
Ela15151:
Have you ever been to a Stargate SG1 Convention?
Richard Dean Anderson:
No, I haven't.
desertrose1:
Do you sometimes miss playing MacGyver?
Richard Dean Anderson:
Sometimes . . . it was so long ago that we were filming MacGyver, but it still airs around the world. I was in South America a few months ago, and we've had visitors from Germany and other parts of Europe to know that the popularity of MacGyver is still large. We finished filming it in 1992 so enough time has gone by so I know that life goes on, but yes, I miss him sometimes.
sophgater:
Is there going to be a 6th series of Stargate, the rumours are that the 5th will be the last(please do a 6th!)
Richard Dean Anderson:
I would love to do a 6th season, as we speak, in fact if we were speaking next week we would know for sure. We're waiting for MGM to tell us if we're to continue or not. So write lots of letters. Call MGM! E-mail MGM! Please . . .
ColKnarf:
What about the rumor, MGM forbid RTL2 to broadcast SG because of contract trouble?
Richard Dean Anderson:
I don't know anything about that.
mika2:
How long do you want to play Stargate SG1?
Richard Dean Anderson:
One year at a time. My only apprehension about playing it forever is that I have a 2 and a half year old daughter who is the love of my life and I just need time to be with her.
SGFAN:
Have you ever visited Germany??
Richard Dean Anderson:
No. I've been to Europe about 4 different times and I've traveled through France, Amsterdam, Italy, Greece, and my family is from Scandanavia, from Finland and Sweden, but I have never been able to get to Germany in my travels, but I wish I could someday. I promise. Will you still be there?
Claudia1:
Do you have your daughter with you at the set?
Richard Dean Anderson:
Sometimes, yes. She loves it. I'll bring her on to the set and walk her around. Sometimes we have special effects, monsters walking around.
Loki2:
Which actor of Stargate do you like most and why?
Richard Dean Anderson:
Willie Garson. He's not a regular, he plays Marty. We're getting ready to start filming our 100th episode. Willie will be coming back. He's a very funny little man. Because he's so funny, I had the most fun with him. All the other actors I work with regularly, are all equally great to work with. Incredible. Awesome to work with. I have a different relationship with all of them, so I have fun in unique ways with all 5 regulars.
Ra1:
What are you doing in your free-time?
Richard Dean Anderson:
First of all I don't have any free time, but when we're on hiatus, my vacation consists of traveling to the big rivers around the world. I'm filming a continuing documentation of these. I was in Chile, I'm going to Tibet, Ecuador, and the Galapagos Islands. Possibly Africa in December and skiing in January in Colorado.
Moswell:
I'm sure you're sick of this question, but oh well! Can you say anything about what's going to happen in S5 with Sam and Jack? Any particular episodes that involve them?
Richard Dean Anderson:
Not yet. Because we don't know if we're going to be here for a 6th season yet, we're being cautious about exposing too much, so to speak.
Lauser1:
What was your dream concerning your career, when you were a boy?
Richard Dean Anderson:
I grew up in Minnesota. We all played hockey as kids, so I wanted to be a professional hockey player in the NHL. Later on, I wanted to be a downhill skier, a racer.
Kathy3:
It's great talking with you. When have you noticed that you like to become an actor?
Richard Dean Anderson:
I wasn't sure until I was one. Even then, I had some doubts. My father directed plays at the school he taught at, and when I was a child, I watched rehearsals. It seemed very interesting, but it wasn't until college that I pursued it. Until I started auditioning and getting jobs, I didn't know I could do it. I'm a very lucky guy.
bluepeace1:
What is your favourite movie?
Richard Dean Anderson:
Dr. Strangelove. First of all, the acting is sensational. It's a very dark comedy. Peter Sellers is a very good actor - my favorite actor. So faced with a tragedy and to be laughing makes it almost a perfect movie. Everyone should watch it.
Verena2:
What music do you prefer?
Richard Dean Anderson:
Leo Kotke is my favorite single artist. YoYoMa is my favorite classical performer. Classical music is generally my favorite form of music to listen to.
Sandra6:
What is your favourite filmstar?
Richard Dean Anderson:
Favorite filmstar . . . I'll have to come back to that.
Fux1:
Who was the most famous person you've met?
Richard Dean Anderson:
YoYo Ma. Wayne Gretzky. I want to meet Michael Schumaker.
Kathy3:
I heard that you work together with some environmental groups, what do you think of Greenpeace?
Richard Dean Anderson:
Recently, I've been in contact and worked with Paul Watson who created the Sea Shepherd Society. The intention is to save and protect the lives of marine animals. He started Greenpeace. He said it exists only to perpetuate itself. So support Sea Shepherd.
Replicator:
Have you been a good student?
Richard Dean Anderson:
In school, I was a fair student. I could have done better.
CrazyCat25:
What do you say about the political situation in Tibet? Do you think there could be sometime a free Tibet?
Richard Dean Anderson:
I'm going to China and Tibet in July and I'm going to see for myself. Before I can comment I'd like to go there. I'd be happy to do another chat and tell you about it.
Jackpot20021:
What do you think about the Asgards?
Richard Dean Anderson:
I think they're a misunderstood being, but seem to be nice folks.
neovsmaorpheus:
How did you like Kurt Russell as O'Neil?
Richard Dean Anderson:
I thought he was wonderful. He was just a really good guy about it. He thought we did a really great job and was very impresssed with what we were able to do. When I took the role of Jack O'Neill I had to make sure everyone understood my hair wouldn't do what his did.
urgo4:
How's your dog, Zoe?
Richard Dean Anderson:
She's great. She's on vacation right now. She's living in San Diego with my brother. She's helping to manage a tennis club. Which is ironic, because she's terrible.
Lilly4:
What does it mean to you, to be an executive producer?
Richard Dean Anderson:
It means I have to talk to the other actors as a producer. I have more responsibilities.
homegirl13:
How many sisters and brothers do you have?
Richard Dean Anderson:
I have 3 younger brothers.
HarryPotterFan1:
When can we chat with you again?
Richard Dean Anderson:
If we get picked up for another season, maybe sometime in the middle of that.
Richard Dean Anderson:
I'm sorry that our time is so short and so many people had a hard time getting on. I'd love to do this more. I've met a lot of fans from Germany, and they continue to be the most loyal and persistent, which I mean in a good way. I hope to come to Germany someday in the future to meet David Hasselhoff. ha ha ha ha ha.
Richard Dean Anderson:
For now, thank you, thank everyone. And be sure to recycle. Conserve Energy!
Moderator:
Hello once again. The chat is now closed, thanks to everybody for participating. See you next time.