100 GREATEST TV STARS OF OUR TIME
MAKING THEIR MARK
McBeal, MacGyver, Ellen... playing more than just parts, they created role models that defined our times or changed our look, or outlook. And aaaay -- sometimes they even wound up part of the lingo.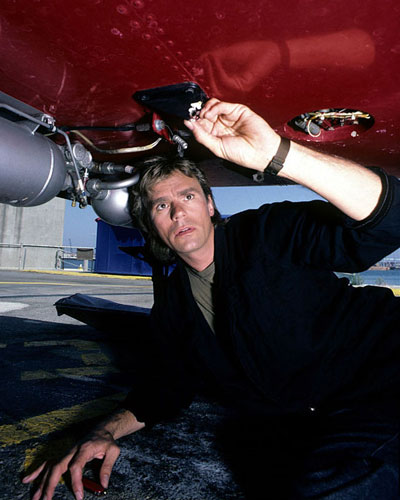 RICHARD DEAN ANDERSON
Born: January 23, 1950
HOMEMADE HERO
He was the unlikeliest of prime-time crime fighters. In fact, the hero of ABC's MacGyver, tagged by critics as "an adventure series for thinkers," didn't carry a gun. Instead, Richard Dean Anderson's square-jawed supersleuth vanquished evildoers using "MacGyverisms" - ingenious devices invariably crafted from paper clips and/or chewing gum wrappers. "He's not one of those supermacho guys with their shirts unbuttoned to their navels, who bounce bullets off their chests and wear 400 tons of gold," observed the native Minnesotan. "Our show teaches a different attitude." MacGyver became a cultural touchstone from 1985 to 1992, inspiring creative-problem-solving programs in schools and even adding to the lexicon, as both a noun ("He's a regular MacGyver") and a verb ("He MacGyvered it"). Beyond the scriptwriting, there was Anderson's shy sexiness and "aw, shucks" charm, honed on ABC's General Hospital. "We went through about 100 actors, and then Richard came in to audition," said MacGyver exec producer Henry Winkler. Now sharing his life with longtime girlfriend Apryl Prose and daughter Wylie, Anderson stars as another unconventional good guy on the Sci Fi Channel's Stargate SG-1. But there's no escaping his past. In the pilot episode a character said, "It took us 15 years and three super-computers to MacGyver a system for the gate on Earth."