STARGATE SG-1 CELEBRATES 200TH EPISODE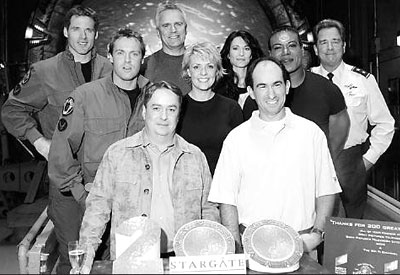 Last week, at The Bridge Studios, over a huge, moist slab cake, a gaggle of journalists hooked up with "Stargate SG-1"'s longtime cast -- Richard Dean Anderson (who is now semi-retired from the show and back living in L.A.), Amanda Tapping, Christopher Judge, Michael Shanks and newcomers Ben Browder, Claudia Black and Beau Bridges to celebrate the show's 200th episode.
"Stargate SG-1," produced by Double Secret Productions, in association with Metro-Goldwyn-Mayer Inc. and Sony Pictures Television, is now shooting its 10th season, earning the show the notable distinction of being the longest-running drama series ever produced for cable television and the longest-running science fiction series on television in North America, surpassing even the long runs of "The X-Files" and every configuration of "Star Trek."
During a brief break from shooting number 200, Canadian executive producers/showrunners Brad Wright (also co-creator) and Robert Cooper expressed their glee.
"When we were in season five we thought -- 100 episodes -- come on, that's enough," admits Wright. That's as far as the show's going to go. Well, another season would be great. Finally, in season nine, Robert essentially recreated SG-1 in such a way that it could have legs to go for years."
Adds Cooper: "We just got sick of writing endings. We closed so many storylines that we needed to start opening new ones in order to write more episodes."
Wright: "We killed the old villains and created new ones. That's how you do it."
Anderson's decision to leave the show a couple of years ago to spend more time with his young daughter in L.A., could have spelled disaster.
But, no. It's the lemons/lemonade theory.
"We tried to look at Richard leaving the show as an opportunity. So, we embraced the changes and fortunately, our fans did too," says Cooper.
And those same fans have been nagging for an SG-1 movie for years.
"We obviously have a lot of ideas for movies and other Stargate series, but it's really not up to us. We would have made a movie a long time ago, if it were up to us," says Cooper.
Wright: "On the other hand, MGM, they're aware this is a franchise now. A movie will get made, whether we make it or not. They will come to us first, I'm sure, and we're going to write a script, I know that. But we kind of got killed by our own success. Every time we tried to make a movie, the series came back. And there was just no way with the business plan that we approached the movie with, that we could do both."
Cooper: "And I don't subscribe to the fact that somehow a movie is the pinnacle -- I actually think television is better than the movies. TV is cool. TV is where good stories are being told, where the best performances are. There's just this incredible pressure on movies because of the amount of money that's being spent on them. You so rarely see a good one. And yet, turn on your TV and I bet you're going to be entertained for an hour, more often than not."
One of the reasons the shows are so good is the decade of history between the characters to draw on for emotion.
"When something happens to one of our characters, you've lived with that person for 10 years, not for two hours, so when something happens to them, it matters," says Cooper.
"Having said that, we'd love to make a movie," adds Wright. "Or there's mini series, there's two-hour TV movies: this franchise is going to keep going."
Wright and Cooper would also like to write a pilot for a new show and to that end, have been grooming a writing staff who could take over "SG-1."
Anderson, ever the hunky silver fox, pretty much left "SG-1" last year after nine years of playing General Jack O'Neill.
And now he's returned for the next several weeks for special guest appearances in a number of episodes of that show and its spinoff, "Stargate Atlantis."
Earlier this year he played himself on an episode of "The Simpsons," and reprised his role as Angus MacGyver for a MasterCard commercial, which debuted during Superbowl XL 2006.
"If I could do that once a year, that'd be fine, nothing wrong with that work dynamic," chuckles the tan actor, sporty-casual in a ball cap and grey hoodie over a bright green turtle neck T-shirt.
But I'm more interested in his personal life, and he's cool with that.
I ask about his little girl, Wylie Quinn Annarose Anderson, who turns eight in August. She's one of the reasons he decided to leave the show -- to help with her upbringing.
"She's finishing second grade, green belt in karate, swimming like a fish," says her proud pop.
"I took her skiing twice this winter to Mammoth. I followed her, she went right into the halfpipe on skiis, she's just beautiful to watch."
Anderson, a keen environmentalist (he's on the board of trustees for Robert F. Kennedy Jr.'s Waterkeeper Alliance and works with Paul Watson's Sea Shepherd Society) also recently took a diving trip to Guam and Truk Lagoon in the Pacific Micronesia.
And he's building a house just north of Malibu.
"That's the big distraction," he concedes. "It's close to the water, a half-mile back. I have a vista that's just outrageous. I tore down the existing structure and I'm putting up my 'legacy house'."
But he was still keen to return for the 200th episode and the guest roles.
"I wouldn't miss that. I wasn't doing anything, and I kind of missed people up here, it's really good," says Anderson, who spent much of his adult life in Vancouver. (In 1985 after being voted Sexiest Survivalist by People magazine, he started his lead role in MacGyver, which shot here for seven seasons and 139 episodes.)
"And your love life?," I ask Anderson.
"I'd love one," he jokes. "Ya got one on ya?"
I suggest online dating, a la Joan Rivers.
"Nah, I couldn't do that. For one thing, I lose interest in being online that long," he laughs. "I need flesh and the real soundwaves and things like that."
"You've had plenty of flesh in your life," I reply, cheekily.
"Nice flesh, too... real nice. And good soundwaves, too," agrees Anderson, who over the years has dated actresses Teri Hatcher, Lara Flynn Boyle, Dana Delaney, Sela Ward and German ice-skater Katarina Witt.
Whatever. Now, Ricky Dean is just enjoying life.
"Very much so. It's all kind of in a nice place right now," he says with a wide grin.