MACGYVER: "I'M EMBARRASSED BY MY CELEBRITY"
Original French | English Translation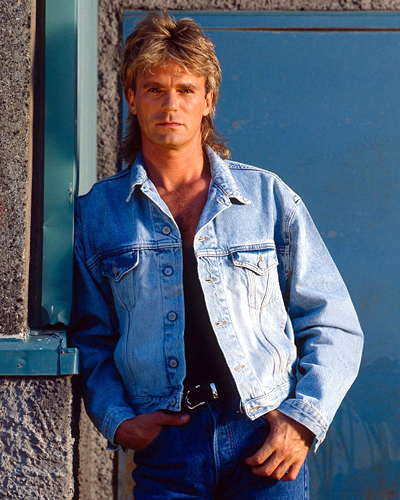 Richard Dean Anderson, the legendary actor of the MacGyver and Stargate SG-1 series, was the star of the FACTS convention for the universe of science fiction, comics, and cosplay.
"If the legacy continues, it's because the series was not as bad as all that," jokes the 66 year old actor, who had the opportunity to test all the Belgian clichés (waffles, chocolate, etc.). "Except for your beer, because I don't drink. I'm sure I'm missing something incredible, everyone talks about it so much!"
The famous actor who portrayed Angus MacGyver - but also Jack O'Neill in Stargate SG-1 - moved the crowds at the FACTS convention, which plunges into the heart of the world of science fiction, comics, anime, and cosplay. "It makes me happy to see that all these people have been touched by my role. The loyal fans are a source of pride," says the man who, with his unique hairstyle, was one of the sex symbols of the small screen. "Even though I've always had trouble understanding it. I'm a guy from Minnesota, where people are not interested in celebrity or fame, as sexy as it may be. Besides, I'm getting older, and now that embarrasses me more than anything..."
You feel out of place now?
You see the double chin and my love handles? (smiling) With age and the passage of time, you inevitably change. I sometimes feel like a chicken, and I apologize to the fans for that... Even though I've lost about 30 pounds in the last year, it embarrasses me because people don't always recognize me.
MacGyver will become a new television series. Will you be a part of it?
"I don't think so. You never know, but no one called me to see if I was interested. I'm not upset, because I wasn't really interested in being a part of it. When I did the series, in 1985, it was the perfect time. There were a lot of TV shows or series that used weapons, and we came up with this alternative for solving problems. It was good timing, especially since there was not all the technology that we have today, because everything had to be made with what was at hand. Now I have trouble imagining MacGyver [Lucas Till of the X-Men saga will resume the role, Editor's note] in the modern world. I'd find it very strange to see him with a cell phone!"
What will be in your future, then?
"I haven't worked since Stargate. It's a choice. I'm mostly occupied with my daughter. All that matters to me now is to put her through college, to continue the fight of my foundation [for the protection of whales, Editor's note] and to take care of my sick mother. I don't really think about coming back to work. Not because I don't feel like it, but it's just not my priority. I'll try to reunite all of the Stargate team in Belgium! You are such a pure and gentle population, despite the recent attacks, that it makes me want to come back very soon.