ELECTRONIC ENTERTAINMENT EXPO
May 18, 2005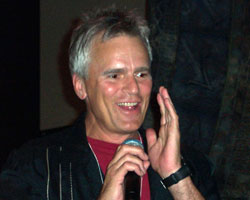 On May 18th, Richard made an appearance at E3, the Electronic Entertainment Expo.
The world's premiere interactive entertainment trade event took place at the Los Angeles Convention Center from May 18-20th, and Richard appeared at the JoWood booth to help promote the upcoming video game "Stargate SG-1: The Alliance" from JoWood Productions.
Below are some pictures of the event.