LAKE LOUISE CELEBRITY SPORTS INVITATIONAL
January 13-14, 2006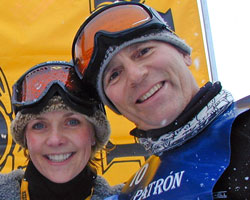 This year's annual Celebrity Sports Invitational was held at the Fairmont Chateau Lake Louise on January 13th and 14th in the winter wonderland of Lake Louise in the Canadian Rockies. Hosted by Robert F. Kennedy Jr. in support of the Waterkeeper Alliance, the star-studded event included a snowshoe/toboggan relay, slalom, and even a poker championship. Richard was among the celebrities who participated in the weekend's events, and he proudly announced that after having been recently elected to Waterkeeper's Board of Trustees, he had just attended his first official Board meeting. The Waterkeeper Alliance is a multi-national organization that protects and preserves water resources. Richard was also joined by fellow Stargate stars Ben Browder, Joe Flanigan, and Amanda Tapping, who was accompanied by her husband and baby Olivia.
The main event on Friday included the snowshoe/toboggan relay race in which one team member showshoed through an uphill obstacle course, then passed off to a partner, who rode a toboggan back down the hill. Richard participated in the race twice by taking the toboggan leg of the race, first with Amanda Tapping and then with Ben Browder as his partners. Saturday began with the slalom race. Richard raced twice against Robert Kennedy, beating him by a full gate in the first race, but just barely coming in behind him in the second. However, he proudly declared that his performance had earned him the "best time overall." Saturday night brought the gala dinner, auction, and concert by Lyle Lovett and his band. Richard mingled with fans during the cocktail hour and posed for pictures. Following the dinner, as the live auction drew to a close, Richard made a donation of $10,000 to support Waterkeeper, and another $10,000 was offered by one of the women from Waterkeeper in exchange for a kiss from Richard. All in the name of a good cause, Richard was happy to oblige.
Below are some pictures of the event.