MAGPIE RIVER, QUEBEC
August 6-16, 2005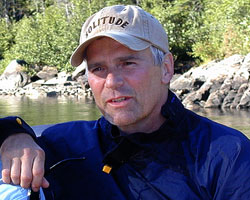 In August, Richard joined Eric Hertz of Earth River Expeditions as well as members of the Waterkeeper Alliance and the Canadian and American press for a whitewater rafting expedition on the Magpie River in Quebec, Canada.
The purpose of the trip was to bring attention to the environmental issues facing the Magpie region, a pristine wilderness known for its breathtaking whitewater which is the target of a proposed project that would build hydroelectric dams along the river.
Visit the Waterkeeper Alliance and Earth River Expeditions for more information about the Magpie region of Quebec.
Below are some pictures from Richard's whitewater adventure in Quebec.