SEA SHEPHERD SEAL CAMPAIGN
March 7, 2005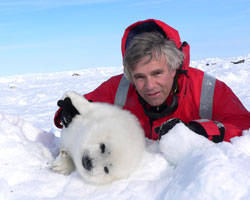 Richard flew to Charlottetown, Prince Edward Island in Canada to participate in the Sea Shepherd Conservation Society's campaign to end the slaughter of baby seals.
He spent the day on the ice floes observing, photographing, and posing with the baby seals, and he returned afterward to Charlottetown to join Captain Paul Watson for a press conference to voice his concern for the seals.
An article about the press conference in Charlottetown is available in the Archives.
Visit the Sea Shepherd Conservation Society to learn more about the Seal Campaign.
Below are some photos from Richard's visit with the seals.