RAISING HOPE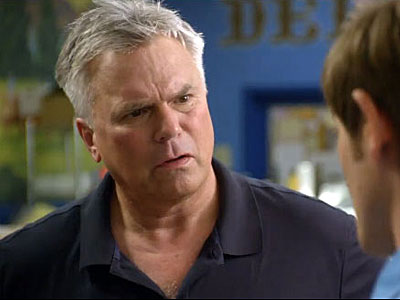 FOX Television Series
Guest Role/ Episode: "Jimmy and the Kid"
Airdate: November 8, 2011
Role: Judy's Father
Lucas Neff as Jimmy Chance
Martha Plimpton as Virginia Chance
Garret Dillahunt as Burt Chance
Shannon Woodward as Sabrina
Cloris Leachman as Maw Maw
Baylie and Rylie Cregut as Baby Hope
"Raising Hope," created by Greg Garcia, follows the Chance family as they find themselves raising the newest addition to the household, a baby named Hope. Hope is the product of Jimmy's one-night stand with a wanted felon, whom his mother, Virginia, helped capture and send to prison. Virginia and her husband, Burt, who had Jimmy at the tender age of 15, find themselves back in the baby game, but now with their granddaughter, they have a chance to get it right. The Chances live with Jimmy's great-grandmother, Maw Maw. Once the rock of the family, she now forces everyone to stay on their toes.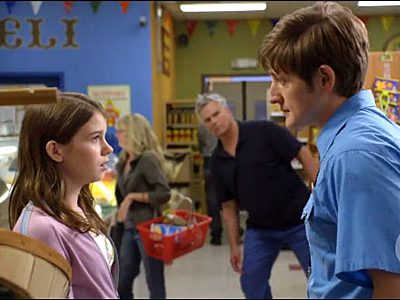 November 8, 2011
JIMMY AND THE KID
Episode: season 2 episode 6
Jimmy is in love with Sabrina, but he can't bring himself to tell her. However, when Trevor, a libidinous and manipulative 13 year old, tries to hit on Sabrina, he'll only agree to back off and keep Jimmy's secret if Jimmy finds him a girl of his own. Thirteen-year-old Judy is definitely interested in Trevor, but her overly protective father misinterprets Jimmy's approach and takes action when he thinks that Jimmy is hitting on his little girl.
Written by: Bobby Bowman
Directed by: Eyal Gordin
Guest Starring: Camden Garcia as Trevor, Ryan Doom as Wyatt, Todd Giebenhain as Frank, Wylie Anderson as Judy, Richard Dean Anderson as Judy's Father
This episode marks the TV debut of Richard's daughter Wylie, as Judy. Wylie had also appeared as an uncredited extra in the second season premiere episode entitled "Prodigy," which aired on September 20, 2011. She was among the girls swooning for the singing of young Jimmy, portrayed by Greyson Chance.
Video clips of Richard's and Wylie's appearances are available in the Video Gallery