BIRTH OF A LEGEND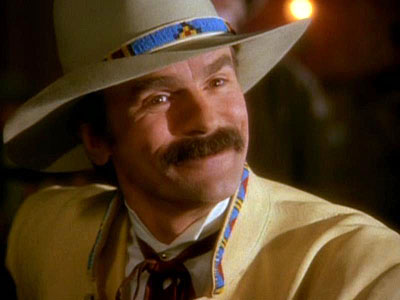 01.01 Episode 1 (#40069-721)
Airdate: April 18, 1995
In the 1870s West, a boozing dime novelist (Richard Dean Anderson) assumes the identity of his books' hero, Nicodemus Legend. In the opener, Legend helps a group of immigrant farmers protect themselves from a greedy landowner.
Created by: Michael Piller and Bill Dial
Written by: Michael Piller and Bill Dial
Directed by: Charles Correll
Starring: Richard Dean Anderson as Ernest Pratt / Nicodemus Legend, John De Lancie as Janos Christophe Bartok, Mark Adair Rios as Huitzilopochtli Ramos
Guest Starring: Bob Balaban as Harry Parver, Stephanie Beacham as Vera Slaughter, Katherine Moffat as Katherine Sullivan, Jon Pennell as Silas Slaughter, Douglas Rowe as Sheriff Motes, Jarrad Paul as Skeeter, Tim Thomerson as John Wesley Coe, Pete Schrum as Alidar Brull, Betsy Beard as Elizabeth Brull, Stephanie Copperman as Viktoria Brull, Dick Bellerue as Smokey, Forrie J. Smith as Jesse James, Monty Stuart as Frank James, Kara Vieau as Mom, Savannah Morgan as Girl, Nicolas Glaeser as Antonio, Jack Ong as Mr. Fat, Eddie Mui as Son, Jerry Woods as Man with Knife, Jennifer Wilson as Miss Freeman, Merik Woodmansee as Autograph Boy, Bob Sorenson as Titus Berman, John Furlong as Governor Dennehy
Nielsen Ratings: 4.2 rating / 7 share / rank 80th overall
Reference: E.C. Allen, Antonio, Janos Bartok, Titus Berman, Alidar Brull, Elizabeth Brull, Viktoria Brull, Buffalo Head Saloon, Ned Buntline, John Wesley Coe, Governor Dennehy, Denver, Disarmer, Mr. Fat, Fulminator, Legend Balloon, Nicodemus Legend, Legend Wings, Sheriff Motes, Harry Parver, Ernest Pratt, Quadrovelocipede, Huitzilopochtli Ramos, Rockland Pass, San Francisco, Sheridan, Skeeter, Silas Slaughter, Vera Slaughter, Smokey, Katherine Sullivan
INVENTIONS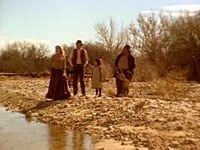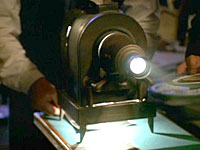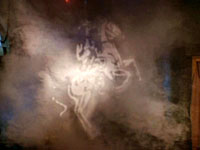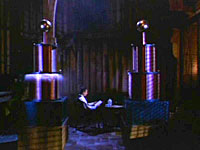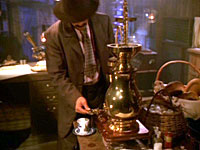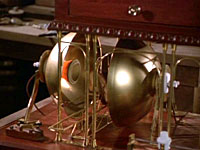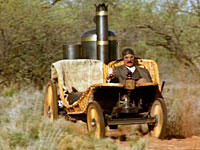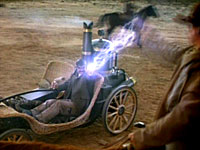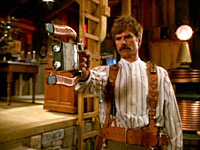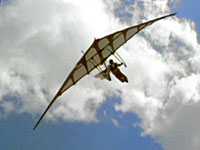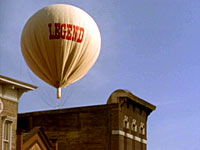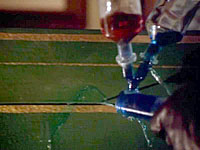 MEMORABLE REMARKS
I never eat on an empty stomach. [Pratt]
I am not, nor will I ever be, a man who disturbs livestock. [Pratt]
Yes, I am taller in real life. [Pratt]
But I divorced my husband two years ago. Then he died. [Katherine Sullivan]
Well, winning the West was never easy. [Pratt]
Hmm, and how did I do that? [Pratt]
I don't know. I'm not Nicodemus Legend. [Katherine Sullivan]
What a coincidence. Neither am I. [Pratt]
I can show you the sights of San Francisco tourists rarely see. My hotel room, for example. [Pratt]
The Bogardus sisters said the electricity in the air caused them to grow moustaches. But, if you ask me, their mother had a pretty good nose brush, so I figure the electricity had nothing to do with it. [Skeeter]
They say Edison is working on one of these to make the pictures move. Another toy. That's all Edison is good for. Plodding troll. [Bartok]
Do you understand what you've done? [Pratt]
Of course I understand what I've done. Unfortunately, I'm frequently the only one who does. [Bartok]
Some might wonder if you didn't borrow the underwater helmet from Jules Verne? [Bartok]
That... was an homage! [Pratt]
If you say so. [Bartok]
Someday there will be facilities along every road dispensing water to power vehicles like this, and perhaps little necessities like maps, tobacco... and beer. [Bartok]
Ramos - Engage. [Bartok]
I just can't assume the identity of Nicodemus Legend. We're nothing alike. He leaps wide canyons, runs like a deer, swims like a spawning salmon. Except for the spawning part, I can't do any of that. [Pratt]
Even as we speak, there's a man back east by the name of Alexander Graham Bell who's perfecting a device which I predict will cause no end of trouble. [Bartok]
How's your stamina? [Bartok]
Depends. [Pratt]
You tell him death has come to town. [John Wesley Coe]
Is there a first name, or...? [Skeeter]
He has his reputation, you have yours. It's even. [Bartok]
What do you mean, even? His is real, mine is the product of a drunken fantasy! [Pratt]
Yes, but he doesn't know that. [Bartok]
An obituary is my idea of bad publicity! [Pratt]
Don't worry. We'll be right behind you. [Bartok]
So, logistically speaking, I'll be between you and the bullet, right? [Pratt]
Why, Nicodemus, am I mistaken or are you trying to probe me? [Vera]
The evening is young. [Legend]
It's unethical, it's immoral, it's how we built this great nation, but it's not illegal. [Pratt]
You don't understand. I wrote this scene. I get shot. I die! [Pratt]
It's far more likely you will crash and break your neck before he can shoot you. [Bartok]
I've heard she's hired some big shot attorney from Boston to represent Silas, by the name of Oliver Wendell Holmes. [Katherine Sullivan]
Oh! Lawyers that go by three names are nothing but trouble. [Pratt]
Separately, you and I are heroes to no one. Together, we could become legendary. [Bartok]
NOTES OF INTEREST
The title "Birth of a Legend" is an homage to "Birth of a Nation."
As an executive producer, Richard Dean Anderson planned the opening sequence so that his name appeared over the image of the dog.
The Gallatin Bank was named for the hometown of Richard Dean Anderson's assistant.
The story takes place in San Francisco, Sheridan, and Denver in 1876.
The territory of Colorado became the 38th state on August 1, 1876.
A Chinatown flush is any three clubs and a seven.
Richard Dean Anderson based his portrayal of Ernest Pratt on his own grandfather.
Janos Bartok is based on Nikola Tesla, the Serbian American inventor known especially for his experiments with electricity, and who really did have a feud with Thomas Edison.
Ned Buntline is the pseudonym of Edward Zane Carroll Judson, an American publisher, journalist, writer, and publicist.
THE LEGEND NOVELS
(UNNAMED NOVEL) - The James brothers robbed the Gallatin Bank and kidnapped a little girl, but when Legend arrived to rescue her, he was shot, and Pratt had killed his meal ticket.
LAND OF THE ORANGE SKY - Legend helped a schoolteacher lady in Colorado.
LEGEND AND CHEROKEE JOE - Legend took a bad fall.
BLOOD ON THE TEXAS SAND - A chase through the booby-trapped arroyos in a steam powered untracked land vehicle inspired the model for the quadrovelocipede.
LEGEND AND THE GHOST OF CHIRACAHUA CAVES
LEGEND AND THE MASSACRE AT MESQUITE FLAT - Legend surprised, disarmed, and disabled five heavily armed Apache.
IMAGES