MR. PRATT GOES TO SHERIDAN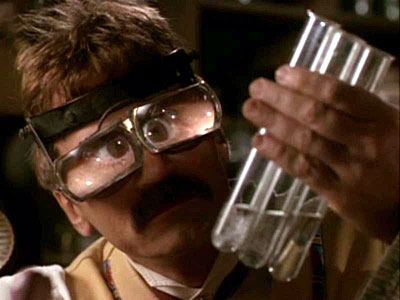 01.02 Episode 2 (#40069-004)
Airdate: April 25, 1995
A notorious bank robber who's accused of murder announces he'll give himself up - but only to Legend. Meanwhile, Pratt has trouble adhering to his literary creation's lifestyle.
Written by: Michael Piller and Bill Dial
Directed by: William Gereghty
Starring: Richard Dean Anderson as Ernest Pratt / Nicodemus Legend, John De Lancie as Janos Christophe Bartok, Mark Adair Rios as Huitzilopochtli Ramos, Jarrad Paul as Skeeter
Guest Starring: Stephen Baldwin as Gentleman Jim Siringo, Robert Donner as Chamberlain Brown, John Chappel as Lamar, Randy Oglesby as Winslow, Michael Moss as Roscoe Barnes, Lily Nielsen as Mrs. Yancy, Rusty Ferracane as Amos White, Billy Joe Patton as Marshal, Bob Lester as Shotgun Rider, Marian Wald as Lady #1, Mona Tadych as Lady #2, Claude File as Dealer
Nielsen Ratings: 3.1 rating / 5 share / rank 86th overall
Reference: E.C. Allen, Roscoe Barnes, Chamberlain Brown, Buffalo Head Saloon, Ned Buntline, Fulminator, Lamar, Legend Balloon, Midland Merchant's Bank, Phillips, Sheridan, Silver King Hotel, Jim Siringo, Tucson, Amos White, G.H. Winslow, Mrs. Yancy
INVENTIONS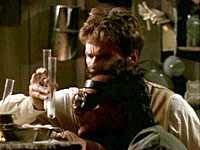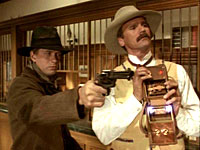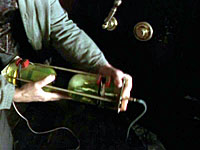 MEMORABLE REMARKS
This could do for us what the Alamo did for San Antonio. Of course, they did have a massacre down there, but, I think that adds to the tourist value of a place, don't you? [Mayor Brown]
Yes, massacres do get your attention. [Bartok]
All right, like we practiced - only better! [Skeeter]
She sure does hate it when I chew my toenails. [Lamar]
Sounds like a woman of quality, Lamar. Don't you ever lose her. [Pratt]
I believe I have a personal appearance that day, at a wedding... could be a hanging. I don't recall. [Pratt]
Siringo... well, he did something that I find completely unforgiveable. [Pratt]
He put his life into your hands? [Bartok]
Exactly. I hate that. [Pratt]
A man who does not have adventure in his heart cannot write adventure books. [Bartok]
Yes, well, keep in mind if the hero dies, the adventure's over. [Pratt]
Ah, the tell-tale heart. I remember it well. I had to sleep in Mother Pratt's room for a week. Nevermore... [Pratt]
Do I have to be the milkmaid? [Legend]
It's certainly smokeless. Quiet too. [Legend]
The adventure is back in your heart again. [Bartok]
Is that what that is? I thought it was the fish taco from the roadside vendor. [Pratt]
NOTES OF INTEREST
The title "Mr. Pratt Goes to Sheridan" is an homage to "Mr. Smith Goes to Washington."
Nicodemus Legend does not drink, smoke, or gamble. Ernest Pratt most definitely does.
"Tea" is a teacup filled with bourbon.
Joaquin Murieta Carrillo was also known as the Mexican Robin Hood or the Robin Hood of El Dorado, a famous figure in California during the California Gold Rush of the 1850s.
THE LEGEND NOVELS
DOUBLE SHADOWS - Legend assisted in negotiating the surrender of the Payson twins in Amarillo.
MYSTERY OF THE FEATHER CREEK STALKER - Legend used forensics to solve the mystery.
IMAGES