LEGEND ON HIS PRESIDENT'S SECRET SERVICE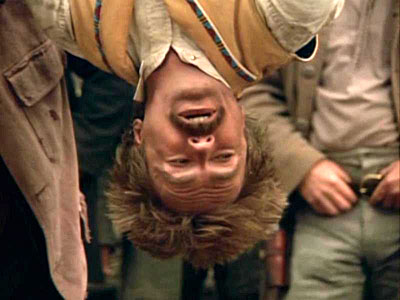 01.03 Episode 3 (#40069-003)
Airdate: May 2, 1995
Pratt must thwart a plot to assassinate President Ulysses S. Grant hatched by a group of Texans unhappy with the outcome of the Civil War.
Written by: Bob Wilcox
Directed by: Michael Vejar
Guest Starring: Ken Jenkins as Ethan Catledge Steele, Fionnula Flanagan as Julia Grant, Leah Lail as Abigail Steele, Alan Brooks as Potter, G.W. Bailey as Ulysses S. Grant, Robert Shelton as Grady, Aaron Chadwick as Rubin, Patrick McCord as Lynch, Ana Auther as Henrietta, Marc Miles as Redneck #1, Stephen Foster as Redneck #2
Nielsen Ratings: 2.6 rating / 4 share / rank 82th overall
Reference: Janos Bartok, Buffalo Head Saloon, Disarmer, El Paso Texas, Grady, Julia Grant, Ulysses S. Grant, Henrietta, Legend Balloon, Nicodemus Legend, Legend Wings, Lynch, I.F. Potter, Ernest Pratt, Pueblo Colorado, Raleigh, Huitzilopochtli Ramos, Rubin, Sheridan Colorado, Silver King Hotel, Abigail Steele, Ethan Catledge Steele, Sweetwater Texas
INVENTIONS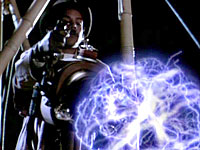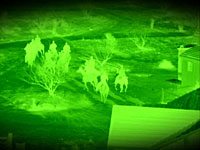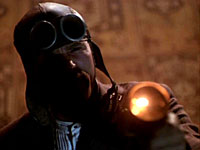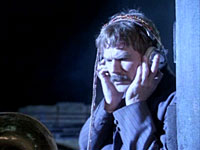 MEMORABLE REMARKS
I'd love to sign a book for you, but as you can see, I am... UPSIDE DOWN. [Legend]
Did you know President Grant is on a tour that takes him through Texas? [Abigail]
We must have the same publicist. [Legend]
Twenty minutes later, my ears began to bleed on her pantalets. That seemed to get her attention. [Pratt]
Oh, please, nobody wants to read a melodrama about an aristocratic Southern woman who barely survives the burning of Atlanta. [Pratt]
It could change the course of human events. Possibly not. Right now it's delightfully useless. And we shall follow this useless research wherever it may take us. [Bartok]
I have never been discreet, but I can keep a secret. [Henrietta]
Close enough. [Pratt]
There are just so many citizens, aren't there? One must set priorities. You can't listen to every idiot in the country. [Potter]
No. Just wealthy idiots. [Pratt]
I don't trust a man who doesn't drink, and I need to trust you. [Grant]
On that score, I'm the most trustworthy man alive. [Pratt]
She's definitely getting undressed. Gentlemen, we're just in time. [Pratt]
Oh, sure, sure, when all else fails, break out the old Legend wings and push him out of the balloon. [Legend]
Mr. Legend goes to Washington. [Bartok]
No, I don't think so. I'll leave Washington to the professionals. [Legend]
Yes, well, that'll be the ruin of Washington - too many professionals. [Grant]
You see, Legend's voice is right there inside you. [Bartok]
The only voice I hear says, "I want a drink." [Pratt]
No, it must be the other fellow, Pratt, talking. Ignore him. [Bartok]
I can't. He's thirsty. [Pratt]
NOTES OF INTEREST
The title "Legend on His President's Secret Service" is an homage to the James Bond title "On Her Majesty's Secret Service."
Ulysses S. Grant was the 18th president of the United States (1869-1877) during the Reconstruction following the Civil War.
THE LEGEND NOVELS
WHEN LEGEND COMES MARCHING HOME - Legend was a Union cavalry hero in the Michigan Fifth during the Civil War.
BLOOD ON THE MOONLIT PRAIRIE - Legend used a thermal emissions detector for night vision.
IMAGES