CUSTER'S NEXT-TO-LAST STAND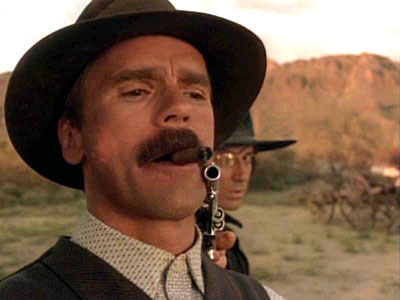 01.04 Episode 4 (#40069-006)
Airdate: May 9, 1995
While a mysterious figure from his past stalks him, Pratt helps General Custer expose corruption inside the War Department.
Written by: Bill Dial
Directed by: William Gereghty
Guest Starring: Alex Hyde-White as George Armstrong Custer, Robert Donner as Chamberlain Brown, Richard Cox as Flintridge Caine, Ashley Laurence as Libbie Custer, Pato Hoffmann as Standing Beaver, Fritz Sperberg as Miles McKinney, Ted Parks as Endicott Whipple
Nielsen Ratings: 2.1 rating / 4 share / rank 89th overall
Reference: Janos Bartok, Chamberlain Brown, Flintridge Caine, Elizabeth Custer, George Armstrong Custer, Fort Hanson, Fulminator, Legend Balloon, Nicodemus Legend, Legend Wings, Miles McKinney, Ernest Pratt, Huitzilopochtli Ramos, Sheridan Colorado, Silver King Hotel, Standing Beaver, Endicott Whipple
INVENTIONS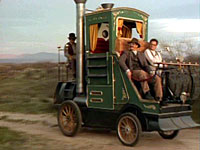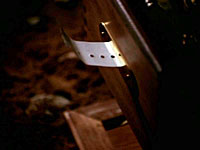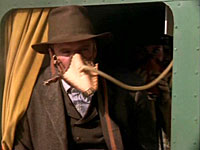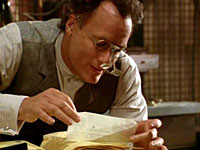 MEMORABLE REMARKS
It was a unanimous vote. Even Hiram Bigelow by proxy, and he passed away last year during Lent! [Mayor Brown]
Oh, we've met before? Funny, I usually wouldn't forget a breath like that. [Pratt]
Ernest Pratt has a moral code all his own. It's about as wide as the Mississippi compared to Legend's, but if I know a woman is married... [Pratt]
What if you don't know? [Ramos]
Well, that falls on my side of the river, don't you think? [Pratt]
Libbie says you were a reporter, and now you're writing dime novels? [Custer]
And you're killing Indians. [Pratt]
An Indian associate? [Custer]
Yes, General, a Mexican national. [Ramos]
Ah, then we are not at war with you, sir. [Custer]
For the present. [Ramos]
Rampaging Comanches in the Badlands is one thing, but Republicans...? [Pratt]
Outlaws love to see their name in print, you know. [Pratt]
We are intercepting a private wire communication. This has never been done before. [Bartok]
Yes, well, the minute the government knows you're doing it, they'll make it illegal, you know that. [Pratt]
You don't have to be a clairvoyant to know that the Democrats don't have a chance in Hades to win the election this year. [Bartok]
Hmm... Indian wars, the entire Sioux Nation... I'd just get in the way. [Pratt]
After this battle, I'm sure your name will live throughout history. I'm clairvoyant, you know. [Bartok, to Custer]
Lucky fella, that Custer. Some people always seem to be in the right place at the right time, you know? [Pratt]
NOTES OF INTEREST
The title "Custer's Next-to-Last Stand" is an homage to "Custer's Last Stand."
George Armstrong Custer (1839-1876) was a celebrated cavalry officer during the Civil War and the American Indian Wars who also had ambitions for the presidency. He and over 200 of his men were killed by a confederation of Cheyenne and Sioux warriors on June 25, 1876 at the Battle of Little Bighorn, known as "Custer's Last Stand."
"Garryowen," the tune played to welcome Custer to Fort Hanson, was an Irish drinking song adopted by General Custer's famed US 7th Cavalry.
In 1876, Rutherford B. Hayes, a Republican, was narrowly elected over Democrat Samuel J. Tilden in a close and fiercely contested election.
THE LEGEND NOVELS
LEGEND AND THE GUNS OF BROTHERS - Jesse James was portrayed in a negative light, but he bought a hundred copies to pass out to his friends.
IMAGES