THE LIFE, DEATH, AND LIFE OF WILD BILL HICKOK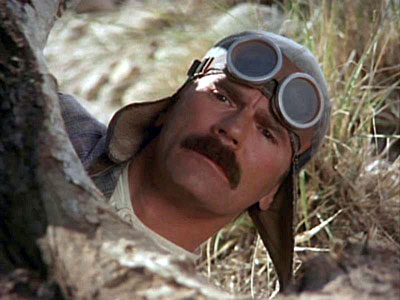 01.05 Episode 5 (#40069-007)
Airdate: May 16, 1995
Having lost much of his eyesight and confidence, Wild Bill Hickok -- a legend in his own right -- enlists the help of Nicodemus Legend in bringing down a band of train robbers.
Written by: Peter Allan Fields
Directed by: Michael Caffey
Guest Starring: Robert Donner as Chamberlain Brown, John Pyper-Ferguson as Jack McCall, Debbie James as Marjorie, William Russ as Wild Bill Hickok, Robert Shelton as Grady, Clark Ray as Henry, Ed Adams as Adam (Henchman), Mike Faherty as Tommy Squirrel, Adam Beech as Adam (Boy)
Nielsen Ratings: 2.4 rating / 4 share / rank 82nd overall
Reference: Reference: Adam, Adam, Janos Bartok, Chamberlain Brown, Buffalo Head Saloon, Ned Buntline, Deadwood South Dakota, Fulminator, Grady, Henry, Bill Hickok, Legend Balloon, Marjorie, Jack McCall, Ernest Pratt, Huitzilopochtli Ramos, Sheridan Colorado, Silver King Hotel, Skeeter, Tommy Squirrel
INVENTIONS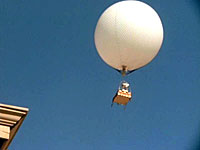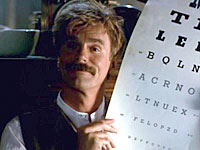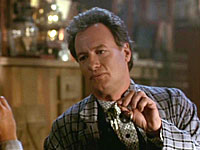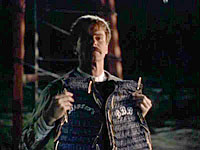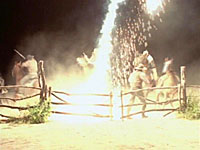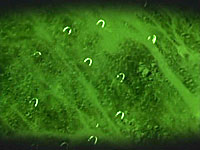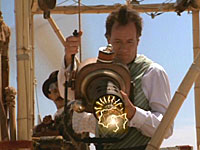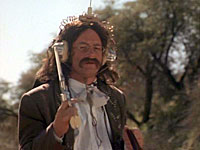 MEMORABLE REMARKS
I haven't heard the Buffalo Head this quiet since Three Finger Pete lost his second finger. [Pratt]
My hair was a little different then. [Skeeter]
Well, it's a little different now. [Hickok]
You drink tea? [Hickok]
Very strong tea. Boy, when that caffeine kicks in, I'm a wild man. [Pratt]
So, having run out of friends, you've turned to me. [Pratt]
What's a man to do when he can't do what he does anymore? [Hickok]
It's a good thing I'm retiring to California. Maybe they don't have any of those "evolving lifesyles" yet. [Hickok]
How's this for an inkling? [Marjorie]
Consider me inkled. [Pratt]
What would happen if a bullet penetrated the big balloon? [Pratt]
It would fall. [Bartok]
Fast or slow? [Pratt]
Depends. [Bartok]
On? [Pratt]
The scientific definition of fast and slow. [Bartok]
The day will come when balloons five times this size will provide elegant transportation to every continent on Earth. Attractive young ladies will cater to your every whim. [Bartok]
Hello! [Pratt]
Well, not

your

every whim. [Bartok]
Compose a letter to the

Herald

. Tell them on this date, we have our first air piracy. [Bartok]
Metaphigies - they're for sissies. There's too many words you don't even need. Too much talking, not enough action. That Ned Buntline, at least he can write an action yarn. [McCall]
I can't stand it! Shoot me! Just shoot me! Buntline's a hack! Put me out of my misery! [Pratt]
Poor old Ned. We seem to have killed off his golden goose. Too bad. [Pratt]
NOTES OF INTEREST
The title "The Life, Death, and Life of Wild Bill Hickok" is an homage to "The Life and Times of Judge Roy Bean."
James Butler Hickok (1837-1876), known as Wild Bill Hickok, was a folk hero of the American West, popular in dime novels and known for his reputation as a lawman, gunfighter, actor, and professional gambler. Although he usually refused to sit with his back to the door, on August 2, 1876, he was shot from behind and killed by Jack MacCall while playing poker in Nuttall and Mann's Number 10 Saloon in Deadwood, South Dakota. The cards he was holding at the time of his death (both black aces and both black eights) have come to be known as the "Dead Man's Hand."
Jack (John) McCall (1850-1877), known as a drunken coward and drifter, may not have encountered Hickok before having lost to him in a poker game in Deadwood. Insulted by the loss, he returned the following day to shoot Hickok in the back. Initially he escaped justice for several months, but was eventually hanged on March 1, 1877, the first to be legally executed in the Dakota Territory.
During the murder scene in Deadwood, the original UPN soundtrack used the song "At My Funeral" by the Crash Test Dummies, but the DVD substituted the song "House on Fire" by Kingsize.
THE LEGEND NOVELS
RIDE THE ANGRY WAVES - The book was the inspiration for the Bartok aerospheric rescue carronade.
WHEELS ACROSS MONTANA - The book was favorably reviewed by the Boston Courier, despite the fact that the robbers ride up from behind the stagecoach and run it down.
DRY GULCH - Legend unwisely drank up all his water while the sun was still up, although he had a map that showed where the nearest water hole was.
BORDER LOVE - The book described El Paso Del Norte as having a "colorful, tune-filled Mexican camino real."
IMAGES