KNEE-HIGH NOON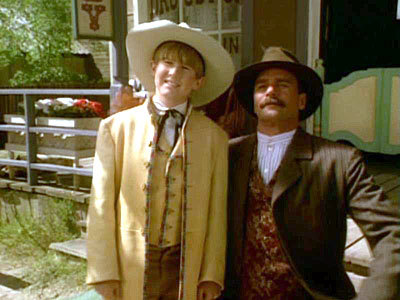 01.06 Episode 6 (#40069-008)
Airdate: May 23, 1995
An aggressive stage mother manipulates Pratt into promoting the career of her bratty son, who fancies the role of "Legend Junior." Meanwhile, Pratt investigates a pair of cattle rustlers.
Teleplay by: Steve Stoliar and Frederick Rappaport
Story by: Steve Stoliar
Directed by: James L. Conway
Guest Starring: Andrew Hill Newman as Milton J. Faber, Mary-Margaret Humes as Laura Davenport, Michael Patrick Carter as Ben Davenport, Ray McKinnon as Lyle, Courtney Gains as Asa, Don Collier as Hank Vine, Dick Bellerue as Smokey, Harlan Knudson as Druggist
Nielsen Ratings: 2.3 rating / 4 share / rank 85th overall
Reference: E.C. Allen, Asa, Janos Bartok, Buffalo Head Saloon, Ben Davenport, Laura Davenport, Disarmer, Eugene, Milton J. Faber, Fulminator, Glover Brothers, Legend Balloon, Nicodemus Legend, Legend Wings, Lyle, Muriel, Ernest Pratt, Quadrovelocipede, Huitzilopochtli Ramos, Sheridan Colorado, Silver King Hotel, Skeeter, Smokey, Hank Vine
INVENTIONS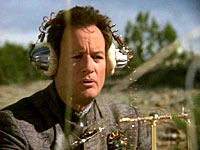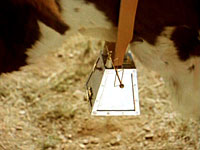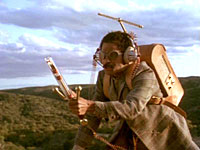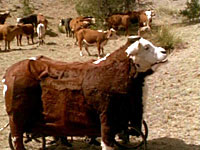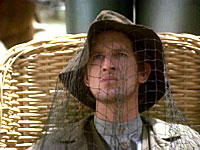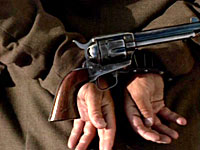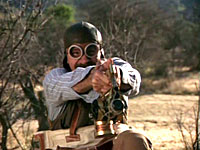 MEMORABLE REMARKS
The American public does not want the real story of cows. They want action. They want adventure. They want beautiful women in distress. No one wants to know from cows. [Pratt]
Why would they take cows down the middle of Main Street? [Bartok]
I heard tell they ran short of ribs at Spanish Mary's last week. [Pratt]
I'm not signing anyone's underwear. Unless I know her very well. [Legend]
Why would anyone buy underwear with someone else's name on it? [Legend]
Ben is an accomplished performer, Mr. Pratt. He has been on the stage since he was five. [Laura Davenport]
He must be very tired! [Pratt]
Mr. Allen has in his employ some of the most dangerous vermin in America. Lawyers! With time on their hands! [Pratt]
Those two are cheats! They're liars! Frauds! [Pratt]
They're going to go very far in this business. [Faber]
E.C. Allen thinks of you as the son he never had. [Faber]
He has

three

sons. [Pratt]
Those are the ones he has. You're the one he didn't have. [Faber]
Alligators have the right idea. They eat their young. [Pratt]
Perhaps you're overreacting, Ernest. After all, he's only a child. [Bartok]
That's what Goliath said. [Pratt]
Nicodemus Legend never points a fulminator at a child. [Bartok]
I'm rethinking the character. [Pratt]
Red Alert! Red Alert! [Pratt]
I thought rustling was a dirty business, but you acting folks put me to shame. [Asa]
NOTES OF INTEREST
The title "Knee-High Noon" is an homage to "High Noon."
Jesse Chisholm (1805-1868) was a mixed-race Cherokee trader who operated several trading posts in the area of Oklahoma. Although he blazed the major cattle-drive trail between Texas and Kansas that came to be known as the Chisholm Trail, he did not herd cattle and was not likely to have driven a herd down the main street of Sheridan as Smokey reported to Legend had happened 30 years before.
THE LEGEND NOVELS
LEGEND'S LOST LOVE - Legend's first love, Clementine, was taken by the angels.
LEGEND MEETS FRONTIER LADDIE - Legend co-starred with a collie.
IMAGES