THE GOSPEL ACCORDING TO LEGEND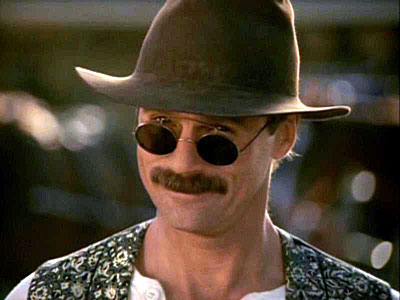 01.07 Episode 7 (#40069-009)
Airdate: June 12, 1995
A preacher encourages the townspeople to reject Bartok's scientific experiments as the devil's work, but his motives are less than divine.
Written by: John Considine
Directed by: Michael Vejar
Guest Starring: Tim Considine as Edgar Taggert, Brendan Kinkade as Daniel Kilkelly, Robert Englund as Mordechai / Willie Miles, Phillip Connery as Brother Jude, Hamilton Mitchell as Driver, Tina Peeler as Heron Twin #1, Tessa Harper as Heron Twin #2, Rick Taylor as Operator
Nielsen Ratings: 2.5 rating / 4 share / rank 92nd overall
Reference: Mrs. Barrow, Janos Bartok, Creation Foundation, Denver Colorado, Disarmer, Brother Jude, Daniel Kilkelly, Laslo, Legend Balloon, Nicodemus Legend, Willie Miles, Mordechai, Open Range Research and Development Corporation, Ernest Pratt, Quadrovelocipede, Huitzilopochtli Ramos, Sheridan Colorado, Silver King Hotel, Skeeter, Edgar Taggert
INVENTIONS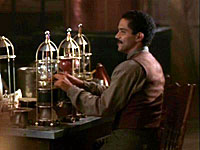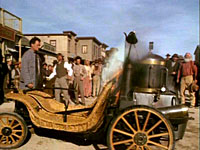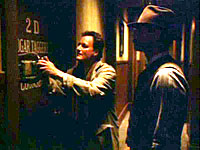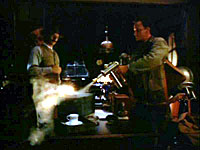 MEMORABLE REMARKS
Preacher in Green River last spring took up snakes, sidewinders with a full load, said the Lord would protect him. [Skeeter]
And did he? [Bartok]
Not... from the snakes... no. [Skeeter]
I walk the path of righteousness now, preaching the word of God. [Mordechai]
You'll forgive me if I step around that pile of horse manure. [Pratt]
Professor Bartok is my technical consultant. [Pratt]
Well, my only consultant is God. [Mordechai]
Yes, well, some of us need more help than others. [Pratt]
We could do a fair amount of celebrating with $50,000, you know. You, me, Ramos, and the McAllister sisters. [Pratt]
He said you believed we was all descended from monkeys. [Telegraph Operator]
Only some of us. [Bartok]
Nothing is so discouraging as discovering that your enemy is really an honorable man. [Bartok]
I've been asked to speak on alternating current at the University of Edinburgh. [Bartok]
Scotland? [Pratt]
Yes, that's where they keep the University of Edinburgh. [Bartok]
I feel a Nocturnal Legend Intrusion coming on tonight. [Pratt]
Fertilizer suits you. I'd tell you where to stuff your offer, but the product says it all. [Pratt]
You're nothing but a penny ante hustler and a back room cheat. Murder takes genuine character. [Pratt]
What took you so long?! [Pratt]
A crazed mob led by murderous guys with torches... [Skeeter]
Well, don't let it happen again. [Pratt]
He who spreads hate, eats mud! Ernest Pratt, chapter and verse to be determined! [Pratt]
NOTES OF INTEREST
The title "The Gospel According to Legend" is a reference to the gospels of the Bible.
Charles Darwin (1809-1882) was an English naturalist and geologist known for his contributions to the theory of evolution, which were highly controversial at the time.
THE LEGEND NOVELS
IMAGES