BONE OF CONTENTION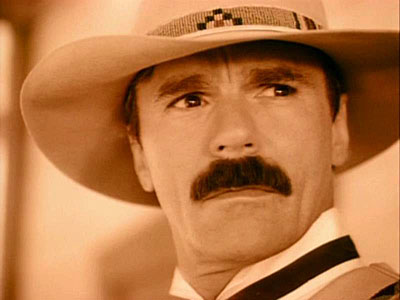 01.08 Episode 8 (#40069-010)
Airdate: June 20, 1995
Legend winds up in the middle of a feud between competing paleontologists who think they've made the find of the century in Sheridan.
Written by: George Geiger
Directed by: Charles Correll
Guest Starring: Beth Toussaint as Beth McMillan/Langsdale, Bruce Gray as Rudolph Kendall, Patrick Kilpatrick as Dave Larson, Douglas Rowe as Sheriff Motes, Ana Auther as Henrietta, Robert Toevs as Miles McMillan
Nielsen Ratings: 2.0 rating / 4 share / rank 94th overall
Reference: Janos Bartok, Blanco Canyon, Buffalo Head Saloon, Fulminator, Hadrosaur, Henrietta, Rudolph Kendall, Langsdale Petroleum, Dave Larson, Legend Balloon, Nicodemus Legend, Beth McMillan, Miles McMillan, Morrie, Sheriff Motes, Omaha City Nebraska, Ernest Pratt, Quadrovelocipede, Huitzilopochtli Ramos, Sheridan Colorado, Silver King Hotel, Skeeter
INVENTIONS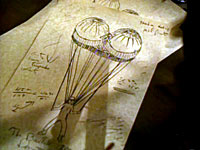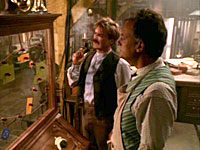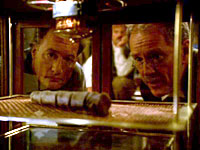 MEMORABLE REMARKS
Follow the yellow suede suit! [Killer Dwarfs]
You know, if I jump onto that saddle from three stories up, I'll be sacrificing the best of me, as it were. Hopes would be dashed across the Great Plains forever. [Pratt]
Oh, here we go. He's got the glasses on. I'm in trouble. Trouble. [Pratt]
Professor, this is America. We like our Fahrenheit here. We don't need any sissy European Celsius system to tell us how hot it is. [Pratt]
Knowledge versus profit and exploitation, eh? I wonder. [Pratt]
You're the one they call Nicodemus Legend, aren't you? [Larson]
When I need to be. Called something. Like that, they... sometimes call me that. Yes. [Pratt]
The hero leads. That is the cardinal rule of drama. [Bartok]
Well, I'm sick and tired of drama. How about a nice little tone poem or a sweet little comedy with a dry white wine, s'il vous plaît? [Pratt]
NOTES OF INTEREST
The title "Bone of Contention" is a reference to the idiom meaning "an issue over which there is continuing disagreement."
The 1870s and 1880s marked a period of intense speculation, discovery, and competition among fossil hunters, especially in Colorado, Nebraska, and Wyoming. In particular, the heated rivalry among paleontologists and against the oil industry led to such underhanded methods of competition that the frequent bribery, theft, destruction of evidence, public defamation, and murder, came to be known as the "Great Dinosaur Rush" or the "Bone Wars."
THE LEGEND NOVELS
IMAGES