REVENGE OF THE HERD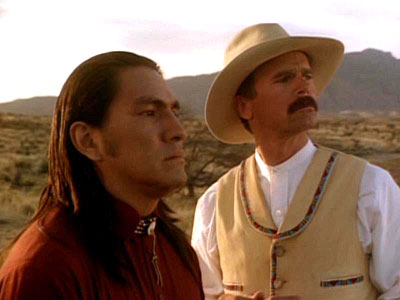 01.09 Episode 9 (#40069-005)
Airdate: July 4, 1995
Pratt and Bartok concoct a scheme to stop a German hunting party from slaughtering a buffalo herd prized by an Arapaho Indian tribe.
Written by: Tim Burns
Directed by: Bob Balaban
Guest Starring: Bob Balaban as Harry Parver, Robert Donner as Mayor Chamberlain Brown, Reiner Schöne as Baron Ludwig Hauptman, Christian Arin as Rolf Hauptman, John Chappell as Lamar, Rodney A. Grant as Towashie, Deryle Lujan as Young Arapaho, Mike Casper as Gizzard-Eating Williams, Dick Bellerue as Smokey, John Dahlstrand as Helmut, George Salazar as Lone Eagle, Frank Soto as Indian, Kaitlin Williams as Kaitlin, Beth Wilkerson as Mother
Nielsen Ratings: 1.4 rating / 3 share / rank 98th overall
Reference: E.C. Allen, Arapaho, Janos Bartok, Chamberlain Brown, Buffalo Head Saloon, Fulminator, Baron Ludwig Hauptman, Rolf Hauptman, Helmut, Kaitlin, Lamar, Legend Balloon, Nicodemus Legend, Harry Parver, Ernest Pratt, Quadrovelocipede, Huitzilopochtli Ramos, Sheridan Colorado, Smokey, Sylvester, Thunder Hooves, Towashie, Wapiti, White Eyes, Gizzard-Eating Williams
INVENTIONS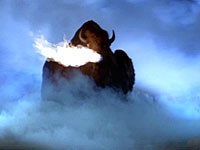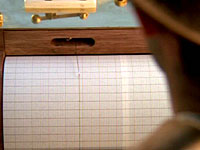 MEMORABLE REMARKS
Mr. Allen would not approve of Nicodemus Legend drinking bourbon in public. [Parver]
It's not in public. It's in a teacup. [Pratt]
Oh, I'm sure the minions in your legal department have better things to do, like cheating me out of my royalties. [Pratt]
The vice president of legal affairs personally cheats you out of your royalties, which has no relevance to the proceedings today. [Parver]
Gentlemen, the enraged grouse is nothing to be laughed at. [Pratt]
With your knowledge of guns, there's no need to explain what we're after, I'm sure. [Hauptman]
Looks like you're after Poland. [Pratt]
Mayor, this is just a cultural misunderstanding. [Pratt]
Culture? They shot a stuffed buffalo head. What kind of culture does that? [Brown]
I foresee a day when you'll be able to run your entire household without moving a muscle. [Bartok]
Is that such a good thing? Do we then not create a physically deficient society? [Ramos]
But man will compensate. A new religion will evolve - the religion of physical conditioning. [Bartok]
If you understood your European history you would know that the Germans and the Hungarians are a little bit like the cowboys and the farmers. Only with heavy artillery. [Bartok]
The winds will reveal where the prey is not, and in so doing, where it is. [Pratt]
Of course there are still the very dumb buffalo that don't know how to tell weather. [Pratt]
If I went to Germany, I'd observe German tradition. Heck, I'd even wear those short little pants. [Pratt]
Why is it that when men find themselves around cattle they have the overwhelming need to say "Yee-ha"? [Bartok]
"Yee-ha." It's what you say to cows. Cows understand "Yee-ha." [Pratt]
Yes, but why not "ya-hee"? [Bartok]
You risk confusing the cow with the inversion. [Pratt]
We got problems. BIG problems. [Pratt]
What do you mean "we," white man? [Ramos]
You don't understand. The Indians want to kill the Germans. [Pratt]
What makes you think I don't understand? [Bartok]
We've got to convince them that if they let the Germans go, no one will ever come back to their lands to kill the herd. [Pratt]
You have a hard enough time convincing me, let alone the Indians. [Bartok]
I'll put her in my next book. What the heck? Screw the elk! [Pratt]
Towashie, how about a traditional Arapaho rain dance? [Pratt]
We don't need a rain dance. We get 15 inches a year around here. [Towashie]
Work WITH me, Towashie! Tradition! A little rain... rain and tradition and... cows... [Pratt]
There's a sight for every Hungarian's heart - German backsides in retreat! [Bartok]
It's impossible to bore a German. [Pratt]
To see the land as Orenda sees it, it reminds a man of how small a part of the world he is. It is an honor to be with you. Now, how fast can we get this thing down? [Towashie]
I don't like you! [Gizzard]
My life is complete! [Pratt]
Are you telling me a fire-breathing mechanical buffalo is raging out of control?? [Pratt]
Yes, and there's a little bit more. It's about to attack the town! [Bartok]
You, White Eyes, will always be a friend of the Arapaho. [Towashie]
Not just a friend, a brother. [Pratt]
I wouldn't go that far. [Towashie]
NOTES OF INTEREST
The title "Revenge of the Herd" is an homage to "Revenge of the Nerds."
Before European settlement, North America contained 25 to 30 million buffalo, a resource upon which many Native American cultures relied for sustenance. In the 19th century, the buffalo were hunted nearly to extinction by hunters seeking their skins. Fewer than 100 buffalo remained in the wild by the late 1880s.
Legend's foreign royalties were over $10,000 last year, which would equate to approximately $225,000 in modern currency.
THE LEGEND NOVELS
LEGEND AND THE QUEST FOR WAPITI THE ELK - In its original form, Legend, known as White Eyes to the Cheyenne, must hunt and kill Wapiti the Great Bull Elk which devours wagon trains, but the story was later adapted to a strong Arapaho theme and the legend of Thunder Hooves.
LEGEND AND THE CLOUDS OF DOOM - Legend encountered a cumulo-nimbo formation, but the book was a poor seller in Europe.
IMAGES