FALL OF A LEGEND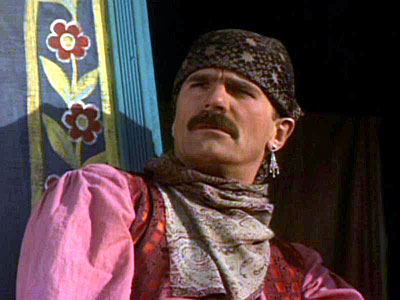 01.10 Episode 10 (#40069-011)
Airdate: July 18, 1995
When Pratt is wrongly accused of murder and lands on the Sheriff's Most Wanted List, he learns that with his famous face, there's nowhere to hide.
Teleplay by: Ron Friedman
Story by: Bob Shayne
Directed by: Michael Vejar
Guest Starring: Robert Donner as Chamberlain Brown, Douglas Rowe as Sheriff Motes, Andrew Hill Newman as Milton J. Faber, Lisa Akey as Drusilla Dern, John Dennis Johnston as Dan Rusch, Michael Ruud as Amos Dern, Hamilton Mitchell as Dr. Costa, Dick Bellerue as Smokey, Peter Cirino as Luis Halewa, James Reeves as Henchman, Gary Kirk as Sam, Linda Dearmond as Bonnie Blue, Michael Wayne as Elijah, Jerome Zelle as Harold, Kim Breckon as Louise
Nielsen Ratings: 1.8 rating / 4 share / rank 90th overall
Reference: E.C. Allen, Janos Bartok, Chamberlain Brown, Bonnie Blue, Buffalo Head Saloon, Dr. Costa, Denver Colorado, Amos Dern, Drusilla Dern, Elijah, Milton J. Faber, Fulminator, Luis Halewa, Harold, Nicodemus Legend, Louise, Sam Motes, Ernest Pratt, Quadrovelocipede, Huitzilopochtli Ramos, Dan Rusch, Sam, Sheridan Colorado, Skeeter, Smokey
INVENTIONS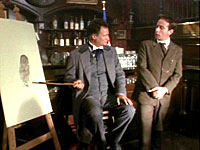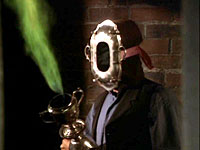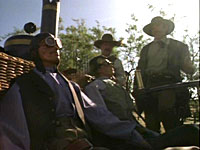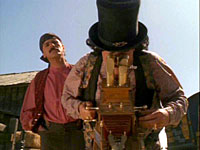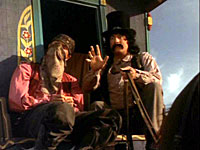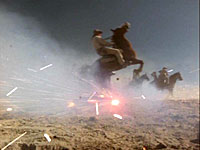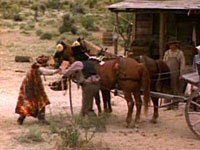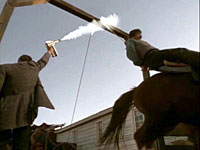 MEMORABLE REMARKS
There's something to be said for craggy charm. Without it, half the men on the planet would sleep alone. [Pratt]
A man without his pants leaves little room for misunderstanding. [Ramos]
You can't hang a man for losing his pants. [Pratt]
I want a real lawyer. I want a lawyer with three names. [Pratt]
I didn't write that! It has a split infinitive! It's obviously a forgery! [Pratt]
Mr. Legend's metabolism is under stress. He needs a greater caloric intake. [Bartok]
You know, if you immigrants are going to live in this country, I don't know why you can't learn to speak the language. [Motes]
Well, let's just hope he didn't change horses in mid-stream. [Pratt]
Oh, no, this doesn't work in a stream. [Bartok]
Oh, no no! You are making a grievous mistake! Oh, look how you are upsetting my poor, mute, stupid, idiot brother. [Bartok]
I know those eyes. Those beady little eyes are on all the books. [Sam]
Beady, are they? Well, aren't we the master of the fresh adjective? [Pratt]
No! You're riding in the wrong direction! He's going right towards them! [Bartok]
That's my Nicodemus! [Bonnie Blue]
It would be a real honor if you'd deliver our baby. [Harold]
What?! All right. Why don't I go fetch some boiling water. I'll get a midwife for you and a shot of bourbon for me. [Pratt]
After all, if you do hang me and find out later it was a mistake, there's not much you can do to rectify the situation, after all, we'll be dealing with a problem because I'll be dead, neck broken, I kicked the bucket, ceased to be, shuffled off my mortal coil, I'd be pushing up daisies on Boot Hill, I'd be an ex-Pratt! [Pratt]
For my final words, I'd like to recite one of my favorite passages from one of my favorite works. It's the soliloquy from "The Mad Comanchero." Should only take an hour or so. [Pratt]
She's young, and impressionable, and I intend to impress her, if you know what I mean. [Pratt]
NOTES OF INTEREST
"The title "Fall of a Legend" is an homage to "Legends of the Fall."
THE LEGEND NOVELS
LEGEND MEETS BLIND JUSTICE - Legend was framed for murder, but he wasn't hanged.
BEAST OF THE BADLANDS - Legend impersonated a one-legged buffalo hunter.
TRAITORS OF THE CHISHOLM TRAIL - Legend portrayed Lum Foo Ding, Chinese Magician.
IMAGES