CLUELESS IN SAN FRANCISCO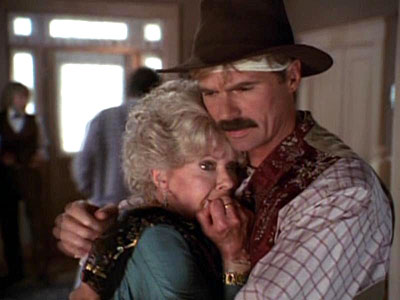 01.11 Episode 11 (#40069-012)
Airdate: July 25, 1995
Pratt goes home to San Francisco to help a woman who was raised by Indians find her biological parents, but some folks there would prefer she didn't succeed.
Teleplay by: Carol Caldwell & Marianne Clarkson
Story by: Carol Caldwell
Directed by: Charles Correll
Guest Starring: Janis Paige as Delilah Pratt, Molly Hagan as Paytents, James Hong as Chai, Dennis Burkley as Andre Quelle Heure, Patty Maloney as Zorelda Toombs, Charles Young as Tattoo Man, Debbie Bartelt as Melissa Walsh, Catherine Gilman as Mrs. O'Hara, Grace Etchen as Grandmother Walsh, Gary Clarke as Reporter #1, Bazzel Baz as Reporter #2
Nielsen Ratings: 2.0 rating / 4 share / rank 88th overall
Reference: Janos Bartok, Chai, Fulminator, Legend Balloon, Nicodemus Legend, Mrs. O'Hara, Paytents, Delilah Pratt, Ernest Pratt, Andre Quelle Heure, Rain Pony, Huitzilopochtli Ramos, San Francisco California, Sheridan Colorado, Skeeter, Zorelda Toombs, Dr. Van Alsburg, Grandmother Walsh, Melissa Walsh
INVENTIONS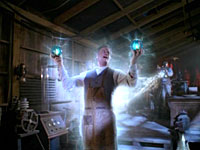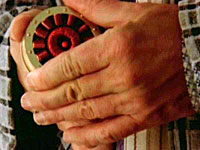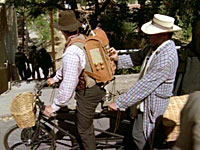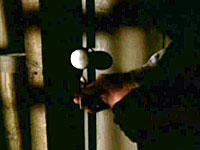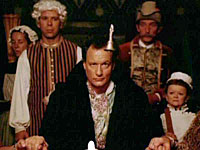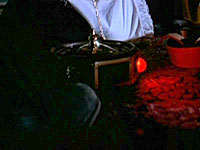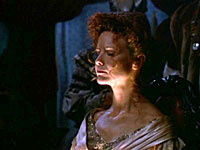 MEMORABLE REMARKS
One day, there will be no need for power transformation. Electricity will be all around us - an invisible presence we will simply have to tap into. [Bartok]
If we can successfully conduct the flow of high voltage energy through my body into these glass orbs, we will either revolutionize power transmission, or burn me to a crisp. [Bartok]
Are you crazy? [Pratt]
Define your terms. [Bartok]
You could visit your mother. [Bartok]
My mother's half the reason I'm in Colorado. [Pratt]
Well, you have two names for me. I've only got one for you, but I'm afraid you'd take offense and have someone hit me on the head again. Then we'd be right back where we started. [Pratt]
It's good to see the blow to your head hasn't dampened your famous antic spirit. [Quelle Heure]
Fortunately for me, my spirit resides elsewhere in my anatomy. [Pratt]
You underestimate me, sir. More dangerously for you, you underestimate my mother. [Pratt]
Mr. Legend has a hard head. He takes after his father. [Mrs. Pratt]
The only difference between you and me is that I didn't lose my family, no matter how hard they tried to get lost. [Mrs. Pratt]
Lawyers, reporters, in-laws - is it any wonder Paytents and Rain Pony made a beeline for the wilderness? [Pratt]
NOTES OF INTEREST
The title "Clueless in San Francisco" is an homage to "Sleepless in Seattle."
THE LEGEND NOVELS
IMAGES