SKELETONS IN THE CLOSET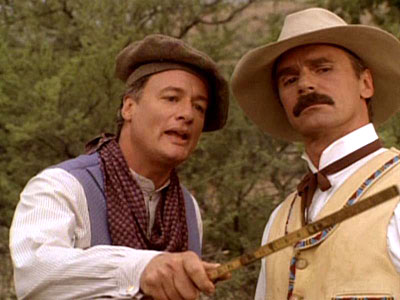 01.12 Episode 12 (#40069-013)
Airdate: August 8, 1995
A skeleton wearing an Aztec ring awakens Ramos's sense of Mexican heritage, sending him on a search for the killer that leads to a town full of racial discord.
Written by: David Rich
Directed by: Steve Shaw
Guest Starring: John Vernon as Seamus Calhoun, Marisol Padilla Sanchez as Maria, Kevin Fry as Mashburn, Robert Keith as Sheriff Stapleton, Ramon Chavez as Father Jaime, Gina Carrizoza as Mrs. Ruiz, Joseph H. Redondo as Large Man, Lara Flynn Boyle as Teresa Dunleavy
Nielsen Ratings: 1.6 rating / 3 share / rank 90th overall
Reference: E.C. Allen, Janos Bartok, Bell Colorado, Black Ben, Seamus Calhoun, Teresa Dunleavy, Fulminator, Father Jaime, Legend Balloon, Nicodemus Legend, Maria, Mashburn, Ernest Pratt, Quadrovelocipede, Huitzilopochtli Ramos, Rampaging Red Rowlett, Felipe Ruiz, Mrs. Ruiz, San Luis Potosi Mexico, Skeeter, Sheriff Stapleton
INVENTIONS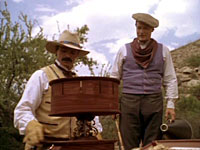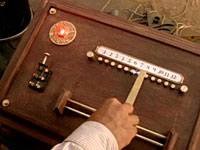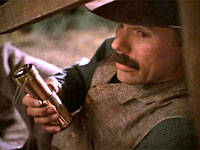 MEMORABLE REMARKS
Oh, I don't know, Skeeter. Do you think you could overact a little, or...? [Pratt]
I'm setting the mood. An actor friend in Budapest said that was very important. Did you know he said that there's a method to acting? [Bartok]
I can see what must be done now, and I must do it alone. [Ramos]
Those are the kinds of words I write for a character before I kill him off. They don't sound so good coming out of you. [Pratt]
Ernest, no late night frolics, please. [Bartok]
Not to worry, the Frolic sisters are out of town visiting an aunt in Minneapolis, I believe. [Pratt]
I couldn't sleep, Janos. I kept having the same dream about the ending of chapter five. This huge avalanche is bearing down on me, no place to hide. It keeps happening over and over again. [Pratt]
I know just how you feel. Just before I conceived of the rain tower I dreamt that Thomas Edison was eating my brain, night after night after night. [Bartok]
I'd like to say something from the heart. Your books are getting better. [Ramos]
And that coming from a man who studied literature at Harvard. [Pratt]
NOTES OF INTEREST
The title "Skeletons in the Closet" is a reference to the idiom meaning "a shameful or embarrassing fact that one wishes to keep secret."
The Bartok praxilloscope would predate by a full year the invention of the praxinoscope in 1877 in France by Charles-Émile Reynaud, and would predate by 13 years the invention of the kinetoscope in 1889 by that plodding troll, Thomas Edison.
The uncredited cameo role of Teresa Dunleavy was played by Lara Flynn Boyle, who was dating Richard Dean Anderson at the time.
THE LEGEND NOVELS
LEGEND AND THE GHOST OF CHIRACAHUA CAVES - Black Ben chased Legend with dynamite.
IMAGES