STUDIO PERSONNEL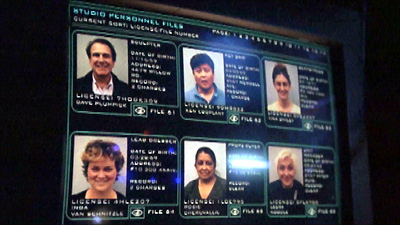 During SG-1's investigation of Martin Lloyd's television show, "Wormhole X-treme!", Carter and Daniel discovered that Martin's associates had been keeping his home under surveillance. In order to determine if they had also infiltrated the studio, Carter accessed the computer database for the studio's personnel files. Her search turned up several members of the production crew, including Dave Plummer, Inga van Schnitzle, a teamster with two PhDs, and one of Tanner's men who had been hired as a production assistant under the name of Steve Austin.
Dave Plummer portrayed by: Patrick O'Brien*
*Cameo by Patrick O'Brien: Hair Stylist
Inga van Schnitzle portrayed by: Bridget McGuire*
*Cameo by Bridget McGuire: Production Designer
Cross Reference: Wormhole X-treme!
Episode Reference: Wormhole X-treme!