WEDDING GUESTS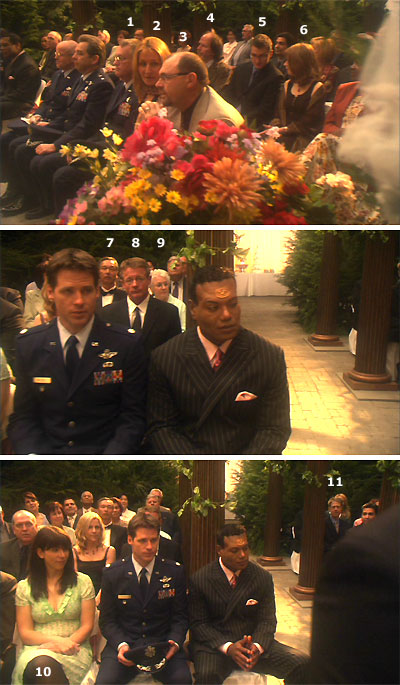 As Martin Lloyd reviewed his proposed script for the feature film version of "Wormhole X-treme!", he searched for an ending with more impact, something more moving. Vala suggested that everyone loves a wedding, and a proposed scenario included Carter and O'Neill as the bride and groom, Daniel as the best man, Vala as the matron of honor, and Thor presiding over an outdoor ceremony before friends and co-workers.
Wedding Guests Portrayed by: Doug Thar, Nicole Forest, Peter F. Woeste, Andy Mikita, John G. Lenic, Christina McQuarrie, Lennard H. Chan, Dan Shea, Jan Newman, Michelle Comens, Barry Peters*
*Cameos by:
1 - Doug Thar: Air Force Technical Advisor
2 - Nicole Forest: Production Accountant
3 - Peter F. Woeste: Director and Director of Photography
4 - Andy Mikita: Director
5 - John G. Lenic: Production Manager
6 - Christina McQuarrie: Costume Designer
7 - Lennard H. Chan: Transportation Coordinator
8 - Dan Shea: Stunt Coordinator
9 - Jan Newman: Makeup Artist
10 - Michelle Comens: Visual Effects Supervisor
11 - Barry Peters: Costume Set Supervisor

Cross Reference: Wormhole X-treme!
Episode Reference: 200