BRIEF CANDLE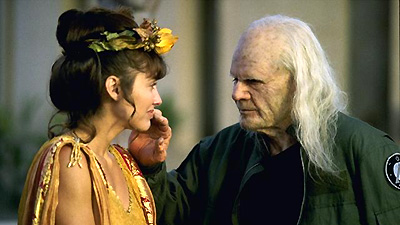 01.09 Episode 9 (#3957)
Airdate: September 19, 1997
SG-1 travels to Argos where they find a civilization of beautiful happy people who worship the Greek god Pelops and celebrate all day, but mysteriously drop to sleep at dusk. More mysteriously, they age very rapidly. A lifespan is only 100 days. When O'Neill, too, begins to age at an alarming rate, SG-1 discovers the cause. Nanocytes, microscopic robots spread through the bloodstream, were part of Pelops' cruel experiment on the population. The team has only days to find a way to deactivate the nanocytes and prevent their deadly effect on both O'Neill and the Argosians.
Story by: Steven Barnes
Teleplay by: Katharyn Powers
Directed by: Mario Azzopardi
Guest Starring: Bobbie Phillips as Kynthia, Teryl Rothery as Dr. Fraiser, Harrison Coe as Alekos, Gabrielle Miller as Thetys, Gary Jones as Technician
Reference: Alekos, Argos, Argosians, Hazmat, Kynthia, Nano-Technology, Nano-Virus, Pelops, Tablet and PTD, Thetys
DESTINATIONS & INHABITANTS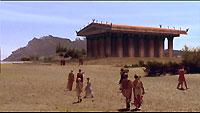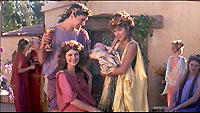 NOTES OF INTEREST
The god Pelops, a Mycenaean herald, fought from a winged chariot hurling lightning bolts.
Pelops "The Creator" "The Giver of Days" was a Goa'uld who brought the ancestors of the Chosen to Argos to study human physiology and evolution.
The self replicating mechanical nano-virus is spread through bodily contact. When triggered by a transmitter signal, it accelerates the life span approximately 250 times (1 day = 1 year). Without the transmitter signal, the immune system destroys the virus.
Thetys is 21 days old, Kynthia 31 days, O'Neill gives his age as 40, and accelerates to the equivalent of 90 years, but recovers in 1-2 weeks.
Goa'uld tablet and page turning device contains writing resembling linear "A" script pictographs found in ancient Greece and Cretan.
Daniel learned midwifery on a dig in the Yucatan and has delivered 2 babies.
Carter studied nano-technology for a year at the Pentagon.
MEMORABLE REMARKS
You never cease to amaze me with all your talents. [O'Neill]
I thought you said it was Greek. [O'Neill]
Oh, Mycenae was an ancient city in the southern Peloponnesus region. [Daniel]
Where's that? [O'Neill]
Greece. [Daniel]
Why do I do that?? [O'Neill]
It's a paradise. [Carter]
Yeah, sure, have an apple. What could happen? [O'Neill]
It is only for you... [Kynthia, and Daniel]
Don't keep the elderly waiting. It's rude. [O'Neill]
I don't need company, I need a cure. And don't you

dare

say goodbye, 'cause you damn well better be coming back. Soon. [O'Neill]
Don't worry. Aside from a little prostate problem we won't go into, it's not so bad. [O'Neill]
I was kind of looking forward to a little shuffleboard with the fellas. [O'Neill]
FOR THE RECORD
For crying out loud: 1
Kids: 1
Injuries:

O'Neill: drugged and infected with nano-virus, aging to 90 years

Popular Culture References:

Wyatt Earp

The cure could be as simple as just getting the hell out of Dodge.