COR-AI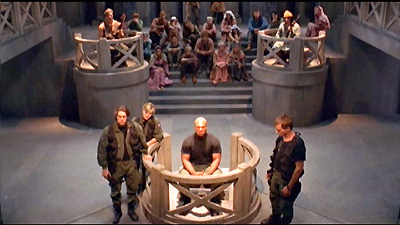 01.16 Episode 16 (#3970)
Airdate: January 23, 1998
When SG-1 arrives on Cartago, Teal'c recognizes the planet as home to the Byrsa, a planet the Goa'uld often visit to harvest human hosts. Teal'c is recognized too, by Hanno, a young man who claims Teal'c killed his father years before. Hanno demands cor-ai, the Byrsa system of justice, but with Teal'c's confession, the trial quickly finds him guilty and sentenced to death. As Teal'c accepts his fate, SG-1 launches a vigorous defense. But it is during a Goa'uld attack that Teal'c's actions prove he is a changed man, and Hanno is persuaded to overturn his decision.
Written by: Tom J. Astle
Directed by: Mario Azzopardi
Guest Starring: David McNally as Hanno, Peter Williams as Apophis, Paulina Gillis as Byrsa Woman, Christina Jastrzembska as Female Elder, Kirby Morrow as Militia Man, Michasa Armstrong as Shak'l, Devon Finn as Young Hanno
Reference: Apophis, Byrsa, Cartago, Cor-ai, Hanno, Shak'l, Teal'c
DESTINATIONS & INHABITANTS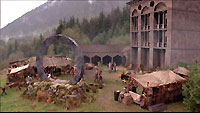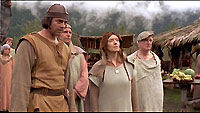 NOTES OF INTEREST
Teal'c visited Cartago before to harvest human hosts, and killed Hanno's father under orders from Apophis.
Cor-ai: local custom of justice determined by the person wronged.
Circ Kakona: local name for the stargate with both Latin and Greek origins meaning "Circle of Woes."
Pecca-ve: local custom of taking a confession, from the Latin meaning "I have sinned."
Shak'l, leading the force of Serpent Guards, was killed by Teal'c.
MEMORABLE REMARKS
I wish you wouldn't say "harvest." We're talking about human beings, not Brussels sprouts. [Daniel]
Why does it always have to be a religious thing with you? Maybe they're coming from a swap meet. [O'Neill]
Colonel, the United States is not in the business of interfering in other people's affairs. [Hammond]
Since when, Sir? [O'Neill]
FOR THE RECORD
Injuries:

Teal'c: staff weapon wound to the left thigh