MATERNAL INSTINCT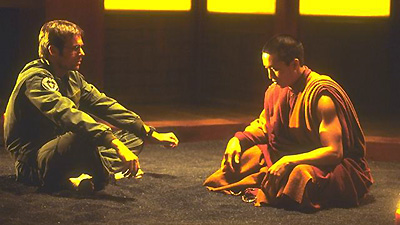 03.20 Episode 64 (#6542)
Airdate: February 25, 2000
Bra'tac arrives with word that Apophis has attacked Chulak, searching for the Harsesis, his child by Shar're/Amaunet. The forbidden child contains all the knowledge of the Goa'uld, and was hidden away by Sha're on Kheb. SG-1 travels to Kheb and finds a serene world with an enigmatic monk who guides Daniel through a spiritual awakening. In his enlightenment, he meets Oma Desala, an ethereal being who is caring for the Harsesis. She holds unimagined powers as well, and it is she who destroys the pursuing Jaffa armies before carrying the infant Harsesis away through the stargate to safety.
Written by: Robert C. Cooper
Directed by: Peter F. Woeste
Guest Starring: Tony Amendola as Bra'tac, Terry Chen as Monk, Teryl Rothery as Dr. Fraiser, Aaron Douglas as Moac, Steve Bacic as Major Coburn, D. Harlan Cutshall as Jaffa Commander, Carla Boudreau as Oma Desala
Reference: Abydos Cartouche, Ascension, Bra'tac, Major Coburn, Harsesis, Kheb, Loc'na ko, Moac, Monk, Oma Desala, Others, Prim'ta
DESTINATIONS & INHABITANTS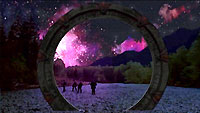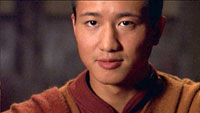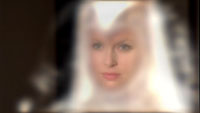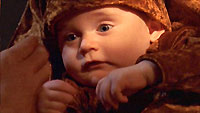 NOTES OF INTEREST
Chulak was attacked and destroyed by Apophis, searching for the Harsesis child. Moac, Bra'tac's newest apprentice, died from injuries received during the battle.
Bra'tac, now 135 years old, is approaching the age when he can no longer carry a prim'ta.
In Earth mythology, Osiris once hid from Seth on Kheb. In Jaffa legend, Osiris hid on a planet of the Loc'na ko, a group of planets whose resources were depleted by mining.
The SGC database includes stargate address references from both the Abydos cartouche (indicated in yellow, including the Loc'na ko) and the Ancients' original map fed into the computer by O'Neill (indicated in red, and including Kheb).
SG-2, under Major Coburn, acted as backup to SG-1 on the mission to Kheb.
Kheb, an untouched wilderness with great mountains and a single temple in a valley distant from the gate, is a world feared and despised by the Goa'uld. According to ancient legend it was discovered long ago by a few Jaffa and kept secret from the Goa'uld. When a Jaffa could no longer carry a prim'ta, he would make the journey to Kheb where his kalach (soul) would learn the path through the darkness into the next life. When the Goa'uld learned of Kheb and travelled there, they did not return, and so it was forbidden to speak of it.
The temple on Kheb was built by an alien race millennia ago who may have visited Earth and inspired the mythology surrounding the concept of Mother Nature. They discovered a means of ascending to some higher ethereal plane of existence and went there, leaving the writings on the shrine as a guide for others to follow. The Monk spoke in Zen koans, suggesting that the theology of Kheb may have been an original basis for Buddhism on Earth.
"Oma Desala" means "Mother Nature".
Coordinates for Kheb: 26-35-6-8-23-14
Other planets of the Loc'na ko include:

22-03-38-15-34-32
24-09-21-34-30-07
10-40-19-20-25-37
22-29-11-26-10-17
36-31-35-12-29-32
22-27-34-14-04-19
MEMORABLE REMARKS
Son of a bitch!! Somebody's gotta teach that guy how to die! [O'Neill]
Well,

some

body's been reading Martha Stewart. [O'Neill]
You know me, I'm a huge fan of subtlety, but that's downright encrypted. [O'Neill]
Here no bull can hide. [Monk]
Oh, I don't know about that... [O'Neill]
Whoa, slow down there, Grasshopper. [O'Neill]
The Monk is just someone who has sort of taken up a curatorship. [Daniel]
Kind of a janitor? [O'Neill]
More of a guide. [Daniel]
An usher? [O'Neill]
It doesn't matter. [Daniel]
And if we happen to make it out of this in one piece, remind me to harm Daniel severely. [O'Neill]
Daniel? [O'Neill]
Yes? [Daniel]
Shoes. [O'Neill]
FOR THE RECORD
For crying out loud: 1
Oy: 1
Popular Culture References:

Martha Stewart Living

Well,

some

body's been reading Martha Stewart.

Kung Fu

Whoa, slow down there, Grasshopper.