GAVIN MARLOWE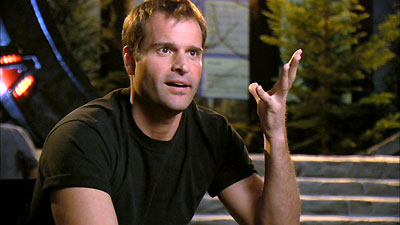 "Wormhole X-treme!", a cable television series developed by Martin Lloyd and based on Stargate Command and SG-1, starred Nick Marlowe as Colonel Danning. The series eventually lasted for ten years, however Nick Marlowe left the show after eight seasons, and he was replaced in the role by his brother Gavin, who struggled to find a clever catch phrase that would make fans forget about the guy that they had loved to watch for the first eight years of the show.
Portrayed by: Peter DeLuise*
*Cameo by Peter DeLuise: Director, Writer, Producer
Cross Reference: Doug Anderson, Director, Raymond Gunne, Nick Marlowe, Yolanda Reese, Wormhole X-treme!
Episode Reference: 200