PETER TANNER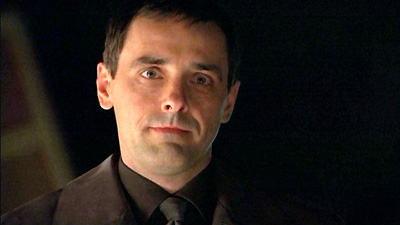 Dr. Peter Tanner was the name taken by one of the five deserters from Martin Lloyd's home planet. They had fled the destruction of their homeworld by the Goa'uld and had been living incognito in Montana. Concerned that Martin would expose their identities, Tanner acted as Martin's psychiatrist, prescribing a number of medications to induce memory loss and control behavior, including Doxepin, Haloperidol, Perphenazine, Lithium, and Valium. When Tanner and the others decided they could no longer remain on Earth, they sought the mobile computing device in Martin's possession in order to access their abandoned spaceship. The four compatriots avoided capture by the NID and escaped from Earth in their ship, but Martin chose to stay behind and pursue a career in Hollywood.
Portrayed by: Robert Lewis
Cross Reference: Malcolm Barrett, Bob, Martin Lloyd, Martin Lloyd's Homeworld, Martin Lloyd's Spaceship, Ted
Episode Reference: Point of No Return, Wormhole X-treme!