P3X-403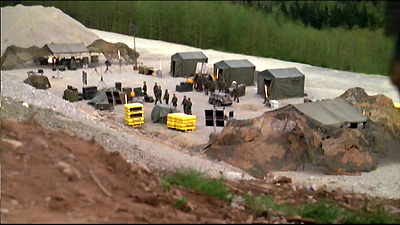 P3X-403 is a forested world with peculiar magnetic properties that severely limit the use of a compass or radio. It is home to aboriginal Unas whose ancestors had once been slaves to the Goa'uld and who had been worked to death in the naquadah mines.
The SGC was unaware of the native Unas when it established a naquadah mining operation on the planet, and for three months only minimal deposits were discovered. However, when a survey and resonance scan revealed 53,000 metric tons of naquadah near the ancient mines that were considered to be sacred ground, the Unas attacked, capturing Lieutenant Ritter and staking him out in a ritualistic killing. The SGC intended to relocate the Unas, and authorized the use of deadly force if negotiations failed, however the SG units on the planet could not have stood against the 44 tribes that united against them.
Daniel sought the help of Chaka to negotiate with Iron Shirt, the leader of the indigenous Unas. They succeeded in brokering a deal in which the SGC agreed not to desecrate the Unas sacred ground, and in exchange the Unas would honor their dead by helping to defeat their ancestors' killers, the Goa'uld, by working the mine themselves, and turning the naquadah deposits over to the SGC.
Location: Red Rock Quarry, GVRD
Cross Reference: Chaka, Colonel Edwards, Iron Shirt, Major Lorne, Lieutenant Menard, Naquadah, Penhall, Lieutenant Ritter, Unas, Unas Language, General Vidrine, Lieutenant Woeste
Episode Reference: Enemy Mine